SPACE
Smart 360 Degree Speaker with Alexa
Built for performance, this 7-speaker 360-degree smart speaker has been performance tuned and designed to impress. Easy to set up and operate with your voice, the Space smart speaker will fill almost any room with rich sound.  This Amazon Alexa smart speaker has a 4 far-field microphones to pick up your voice easily from a distance. Space also offers intelligent audio modes for stereo, movies and 360-degree sound for parties. With Bluetooth® and DLNA support, you can stream music directly from your phone or computer.
Overview

ROOM-FILLING SOUND
Unique array of 7 full range drivers with passive bass radiator and powerful digital amplification. DSP provides immersive, room-filling sound.

JUST ASK ALEXA
The Cleer Space smart speaker is designed with intelligent always on voice control powered by Alexa Voice Services. With the four, built-in far-field microphones, Alexa will easily detect your voice. Ask Alexa to set timers, reminders or play music from popular streaming services like Amazon Music and more.

INTUITIVE CONTROLS
Soft touch controls located on top of the speaker for playback, volume, mic, and listening modes. Perfect when you don't want to provide voice commands to the Alexa smart speaker.
ADVANCED OPERATION
With the Cleer Space App you can easily connect your Space speaker to access settings and stereo pair two Space speakers for a bigger sound in your home. Available on the Apple App & Google Play Stores.
Specs
SPACE DETAILS
Intelligent voice control powered by Alexa Voice Services
Unique 7-channel speaker matrix with 3.5" subwoofer and bass radiator for immersive sound
7 full-range 1.75" speaker drivers in circular array to support 360-degree listening experience
Powerful digital amplification with DSP for room-filling sound
Wi-Fi 802.11n and Bluetooth 4.0 support for optimal connectivity
Intelligent audio modes for Stereo, movies and 360-degree room listening mode for parties
Listen to Amazon Music and other popular services or your own with built-in DLNA and Bluetooth streaming
Download CLEER SPACE app for easy: setup, optimization, and control
Far-field 4-microphone array allowing Alexa voice services to hear voice commands from any direction
WHAT'S INSIDE THE BOX
SPACE Smart Audio Speaker

AC Adaptor

Quick Start Guide
PRODUCT MANUAL
SPACE Quick Start Guide (PDF)
FAQ
Basic spec
What is the rated speaker power of Space?
55W
---
What size power adapter should be used to charge for Space?
A 18V3.88A adapter is recommended to power Space
---
Is a power adaptor included?
Yes
---
What is the weight of Space?
The smart speaker weighs 5.071 lb.
---
What's the size of the speaker drivers in Space?
There are 7 full-range 1.75'' dynamic drivers and a 3.5'' woofer, the best balance for a smart speaker in the home
---
What Colors is Space available in?
We offer Space only in black
---
What type of WiFi does Space support?
This WiFi speaker for the home support s 2.4Ghz WiFi
---
What is the Bluetooth version of Space?
Bluetooth version 4.1
---
Can you pair an Android phone or iPhone?
In addition to WiFi, Space supports Bluetooth 4.1 and can be connected to Bluetooth-enabled mobile phones (Android/iOS), tablets, PCs, TVs and other electronic devices.
---
Does Space support AAC?
Yes
---
How many far-field mics are in Space?
There are 4 far-field microphones to support voice recognition providing responsiveness to voice commands from any angle, making this one of the best smart home speakers.
---
What streaming music services are supported?
Amazon Music and iHeartRadio
---
Can Space be used in the shower?
No
---
How can you safely clean the speaker?
Use a soft cloth with a little water, but be cautious to avoid water splashing into speaker.
---
Product function
How can you connect Space via Bluetooth?
With the Space smart audio speaker turned on, press the Bluetooth button found on the back of the speaker, hold the button until the LED blinks white and you hear the voice prompt "Looking for device". Space will be in in pairing mode, open your Bluetooth settings on your mobile device and locate "Cleer Space" on the bluetooth list and select it to pair.
---
Can Space connect to a computer?
As long as your computer supports Bluetooth audio, you can connect Space to your computer.
---
Will Bluetooth reconnect automatically after disconnected?
Yes, when the Space is powered on, and is within Bluetooth range it will automatically reconnect.
---
How can you connect Space to a second device?
Press Bluetooth button at the back of Space until the LED blinks white and the voice prompt "Looking for device". At this point, locate "Cleer Space" on the bluetooth list of second smart device and select it to pair.
---
Can Space be connected to two devices simultaneously?
No, Space only can be paired and connected to one device.
---
Is the bluetooth connection stable?
The Space is using a specially designed Bluetooth antenna. This results in connectivity that is more stable, faster, and more resistant to interference.
---
Can you make/answer a call via Alexa?
That feature is unavailable on Space.
---
Is the music automatically suspended when there is a call?
Yes, your music will automatically pause when a phone has an incoming call when paired to a phone via Bluetooth.
---
Is there voice assistant support?
Yes, Space has a built-in Amazon Alexa, please follow instructions in the app to set up Alexa voice services in Space. The Space smart audio speaker operates similarly to many 3rd part Alexa smart speakers.
---
What is the function of the light ring?
The light ring has three colors. Please refer to the Space user manual for detail.
---
Does Space have different audio modes?
Yes, Space offers a variety of smart audio modes, refer to manual for description. Audio modes can be accessed by pressing the associated button on top of Space
---
Is there an LED indicator?
There is one indicator light at the bottom of Space to show the pairing status of bluetooth.
---
Does Space have tracking controls for music?
No, but if listening to music streaming services via Alexa, use voice command to select, skip and manage volume of the music you're listening to.
---
Where can I download Cleer Space App?
Cleer Space app is avaliable at Apple AppStore and Google Playstore
---
Can I rename my Space speaker in my bluetooth settings?
Yes, you can rename your Space in the Cleer app or in your phone's bluetooth settings.
---
Can I mute the microphones for privacy?
Yes, touch the microphone button on top of Space to mute the far-field mircrophones. This will disable Alexa from responding to your voice commands. Unmute the microphones to give a voice command.
---
Where should I place Space for optimal audio performacne?
Space works great in most locations, to increase bass and sound stage, place in the corner of the room. The speakers will reflect sound off of the wall for an enhanced experience
---
What can I do if the touch display isn't accurate?
If this occurs, please clean the touchscreen with a lint-free paper or dustless cloth.
---
The touchscreen is unresponsive, how can I fix this?
Reboot your Space.
---
What if the touchscreen doesn't response for a long time?
Clean the touchscreen with a lint-free paper or dustless cloth. If not, disconnect the power source and connect again.
---
How to power on Space?
Connect the power cable to Space and the power adapter, then connect into a power source.
---
How to power off Space?
Disconnect the power source.
---
FROM THE BLOG
Experience a paradigm shift in music listening with Open Ear Headphones. Say goodbye to the days of being disconnected from the world while immersed in your favorite music. Open Ear Headphones revolutionize the music...

Read More

In the realm of modern audio devices, the pursuit of pristine sound quality and immersive experiences has led to significant advancements in noise cancellation technology. Today, we delve into the concept of next-level noise...

Read More

In the fast-paced world of fitness, technology continues to revolutionize our workout routines. One remarkable innovation is the advent of true wireless sport earbuds, designed specifically for fitness enthusiasts. These earbuds bring a myriad...

Read More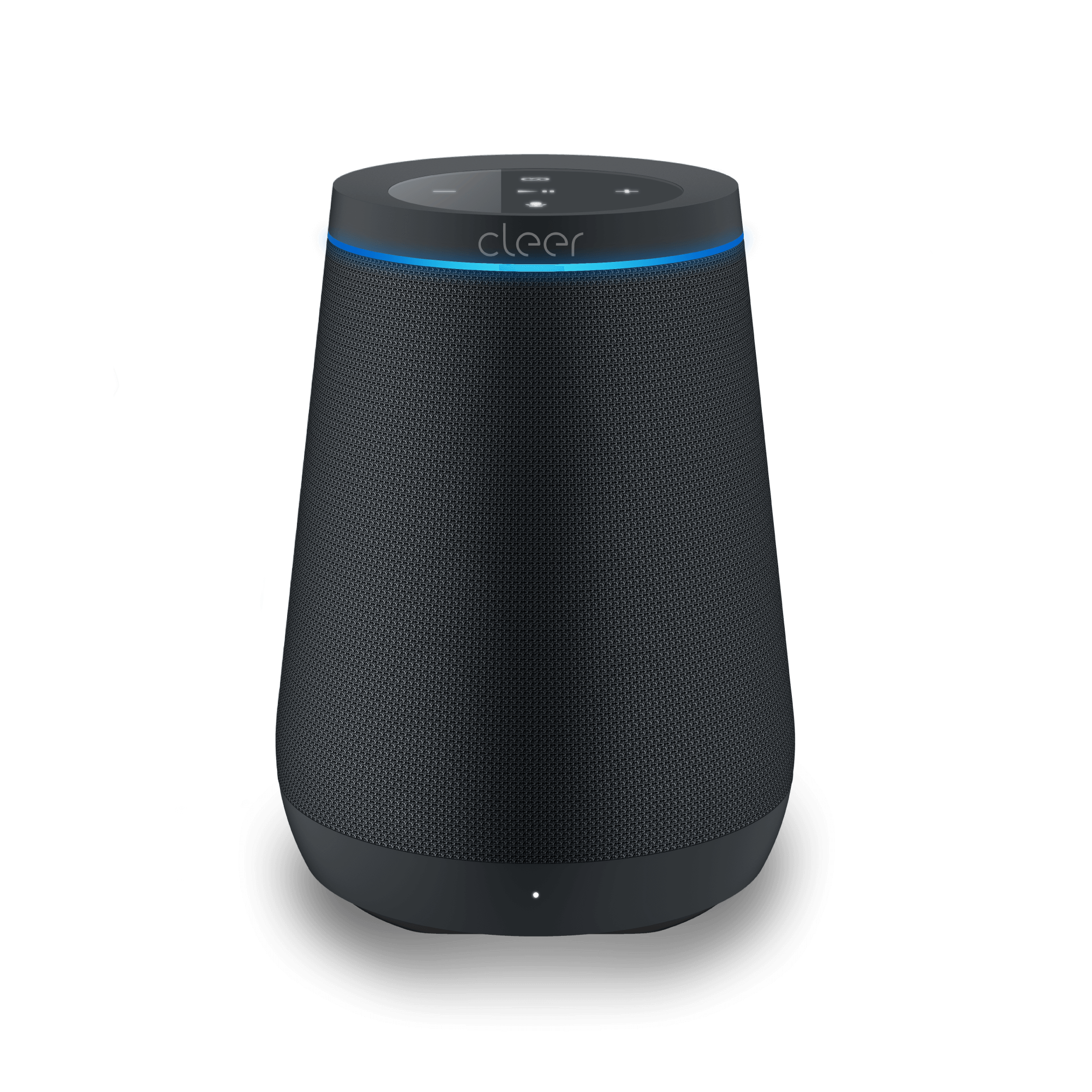 SPACE
Smart 360 Degree Speaker with Alexa
$199.99