GOAL
True Wireless Sport Earbuds for Adventure and Workout
Our lightest true wireless sport earbuds are created to offer a secure, yet comfortable fit. They sit lightly in your ear, eliminating pressure in the ear-canal unlike other competitive earbuds, providing extended use without discomfort. The soft c-shape wing will keep them securely in place during the most rigorous workout. The Goal gets you to the finish line with custom tuned 14mm drivers producing robust sound and deep bass.
$99.99
Overview
MULTI-SIZED C-SKIRTS
Relaxed Comfort
Lightweight passive earbud design allows the earbud to rest outside of your ear canal for added comfort without blocking surrounding noises. The design makes taking phone calls, with its echo suppression technology and two mic design, an enjoyable experience.
EASY TO WEAR
Secure Twist Fit
GOAL earbuds remain secure and comfortable no matter the workout. With a Floating Freebit® C-skirt, simply insert earbud in ear and twist to lock in place.
IPX4 WATER-RESISTANT
Adventure & Workout Ready
IPX4 sweatproof, water-resistant design with silicon coated control button and drop resistant design ensures long-lasting durability.
GO-ALL-DAY BATTERY
Lasting Battery
Up to 20hrs of total music playback with the included charging case. *6hrs playback with earbuds, 14hrs additional with charging case.
UNITED SOCCER LEAGUE
Team Branded Case
Cleer is the offcial audio partner of the United Soccer League. For a limited time, choose a team branded GOAL charging case.
14MM DYNAMIC DRIVERS
Powerful Sound
A custom tuned 14mm dynamic driver provides you with an exceptional range of sound keeping the vocals CLEER and the bass hard hitting.
CONTROL AT YOUR FINGERTIPS
Intuitive Controls
Simple Touch Pad gestures allow you to control calls, track skip, play/pause, volume, and your voice assistant.
WHAT'S INSIDE THE BOX
GOAL True Wireless Earbuds

Charging Case

Quick Start Guide, User Manual, Warranty Card

Charging Cable USB-C to USB-A

Freebit silicone skirts (S, M, L), Silicone sleeve (no skirt)
PRODUCT MANUAL
GOAL Quick Start Guide (PDF)
GOAL Specs
General
Weight

6.6g (per earpiece), 60g (both earpieces and case)

Driver

13.4mm neodymium dynamic driver

Frequency Response

20Hz-20kHz

Headphone Type

True Wireless Earbuds

Microphones

2-mic design with echo noise suppression technology
for clear phone calls

Inputs

Bluetooth
Bluetooth
Bluetooth Version

5.0

Audio Formats

MP3, SBC, aptX
FAQ
Basic spec
What is the playback time of Goal?
Goal true wireless sport earbuds provide up to 6 hours of continual playback when fully charged
---
What is the charging time of Goal?
Goal's charging case will be fully charged in 2 hours when using 5V1A wall adaptor
---
What is the battery capacity of Goal?
Each Goal earbud is equipped with a high-capacity polymer lithium-ion battery. Battery capacity for each earbud is 85mAh, while the charging case is 400mAh.
---
What size charging adapter can be used to charge the case?
For best results, it's recommended that you use a 5V1A qualified adapter or use a computer's USB interface to charge the case.
---
What charging port type is used for the Goal?
The Goal true wireless sport earbuds charging case has a USB-C charging port.
---
Is a power adaptor included?
The power adaptor needs to be purchased separately. To charge the Goal case, please use a qualified 5V1A power adaptor.
---
What is the weight of Goal?
The Goal true wireless sport earbuds weighs 6.5g/.0132 lb. The charging case weighs 50g/.11 lb.
---
Is Goal waterproof?
Yes, Goal's earbuds are IPX4 certified, making them perfect for working out.
---
What is the speaker size of Goal?
14mm high quality dynamic driver
---
What color is the Goal?
The Goal is Black/Red
---
What is the Bluetooth version of Goal?
Bluetooth 5.0
---
What Bluetooth chipset is used on Goal?
Goal uses the Qualcomm QCC3020 chipset
---
What operating temperature is suitable for Goal?
Goal true wireless sport earbuds has a suitable operating temperature of 5-35°/41-95°F. If Goal is placed in excessive heat or low temperatures, product performance many be affected.
---
Can Goal be paired with an Android phone or Apple iPhone?
Yes. The Goal is Bluetooth 5.0 compliant and backward compatible. It can be connected to all Bluetooth-enabled mobile phones (Android/iOS), tablet, PC, TV and other electronic devices
---
Does Goal support aptX?
Yes
---
Does it support Active Noise Cancellation?
No
---
How many different sizes of wings do you provide?
We provide 3 sizes of Freebit silicon skirt (S,M,L), please refer to the owners manual on how to switch between sizes to find the correct fit.
---
Product function
How do you pair to a smart phone with Goal?
Press and hold the touchpad on both earbuds for 5 seconds, the earbud indicator LED flashes red and white alternately. At this time, the earbuds will enter Bluetooth pairing mode. Select Cleer Goal in the Bluetooth list on your phone or computer to connect your device. Please refer to the owners manual for additional information on how to pair the Goal earbuds.
---
Goal earbuds are out of sync (only one earbud is receiving audio)
This process will re-sync the two earbuds together. 1. Place Goal earbuds back in charging case. 2. Go into your Bluetooth settings on connected source device and forget Goal earbuds from your Bluetooth settings. 3. Turn off Bluetooth settings on your phone. 4. Take both Goal earbuds out of case and place them on the table. 5. Pick up one of the earbuds and tap the control pad 5 times quickly, holding your finger on the touchpad on your 5th tap until you see it flash red/white. 6. Once it flashes red/white, tap the same earbud on the touchpad 8 times. (you do not need to hold your finger on the touchpad on 8th tap). Goal should flash white several times, then red, red, white. 7. Place Goal earbud that is flashing red, red, white back on table and repeat steps 5 and 6 on the other earbud. 8. One of the earbuds will start quickly flashing red/white. This signals that the earbuds have been reset and have entered pairing mode and is looking for a device. 9. Grab your phone / smart device and turn on your Bluetooth. Enter the Bluetooth settings and you should see Goal in your "ready to pair" device list. 10. Select Goal and follow any on-screen prompts.
---
Can Goal be connected to a computer?
Yes, Goal true wireless sport earbuds can be connected with a computers that supports Bluetooth
---
Will Goal reconnect automatically after disconnected?
Yes, when the Goal true wireless sport earbuds is powered on and is within Bluetooth range it will automatically reconnect.
---
How can you connect Goal to a second device?
Manually enter Bluetooth pairing mode on the Goal. When in pairing mode, Cleer Goal should appear in your Bluetooth device setting on your phone. Please refer to the Goal user manual for complete instructions.
---
Can Goal be connected to two devices?
No, Goal can only be paired and connected to one device.
---
How to clear Goal's Bluetooth memory?
To clear the pairing memory, take the following steps: 1. Put both earbuds into the Bluetooth pairing mode; 2. Press and hold the touchpanel until the red light flashes 3 times; 3. The pairing memory is cleared.
---
Is the Bluetooth connection stable?
The Goal is using Qualcomm's 3020 solution alongside a specially designed Bluetooth antenna. According to Bluetooth version 5.0, this results in Bluetooth connectivity that is more stable, faster, and more resistant to interference. Perfect for using in the gym while working out. The sport earbuds can operate when 30m from your Bluetooth source
---
How to control your Goal true wireless sport earbuds?
There is a touchpad on each Goal sport earbud for control.
---
What functions does the Goal touchpad control?
The touchpad can control play/pause music, volume and answer/hang up calls. It can also control track skip and launch connected device voice assistant making it easy to operate while running or working out.
---
Can I make a call with the Goal earbud?
Yes, each earbud of the Goal headphones are equipped with separate microphones, which can be used to support calls.
---
Is the music automatically paused when there is a call?
Yes. When you answer a call with either Goal earbud, the music will automaticly pause. When you hang up, your music will resume.
---
Does the music stop/start when earbuds are removed or placed back into your ears?
Yes, each Goal earbud has a sensor that will pause music when you remove an earbud or re-start music when you place them back into your ear.
---
Is there voice assistant?
Goal will support the connected device default voice assistant
---
Is there an LED indicator?
Goal earbuds have an indicator on each side. In different states, there will be different lights. The Goal charging case also has an indicator light which shows battery status.
---
Will the remaining battery capacity be displayed after connecting to a phone?
You can check the earbuds battery level on your phone. For iPhone users it will display next to. the phones battery capacity next to the headphone icon in the control center or you can add batteries to the today widget. For Android phones, this can be found in the settings -> connected devices -> Bluetooth
---
Is there a low battery warning?
Yes. When the battery is less than 10%, there will be a "low battery" voice prompt.
---
Does it support power off timer?
No, but the earbuds will turn off once placed into the charging case
---
Can you rename the true wireless sport earbuds in your device?
Yes, the user can rename the Earbuds in their phones' Bluetooth settings.
---
FROM THE BLOG
In the ever-changing world of personal audio, headphones have solidified their place as must-have companions. They've become super popular among people who want to amp up their music and audio game. With so many...

Read More

In a world increasingly defined by the constant hum of activity, noise pollution has emerged as a ubiquitous companion in our daily lives. The persistent clamor of city traffic, the chatter of colleagues in...

Read More

The fitness world is undergoing a remarkable transformation, largely attributed to the advent of Open Ear Sport Earbuds. These cutting-edge audio devices are reshaping how we engage with our workouts, enhancing our experiences, and...

Read More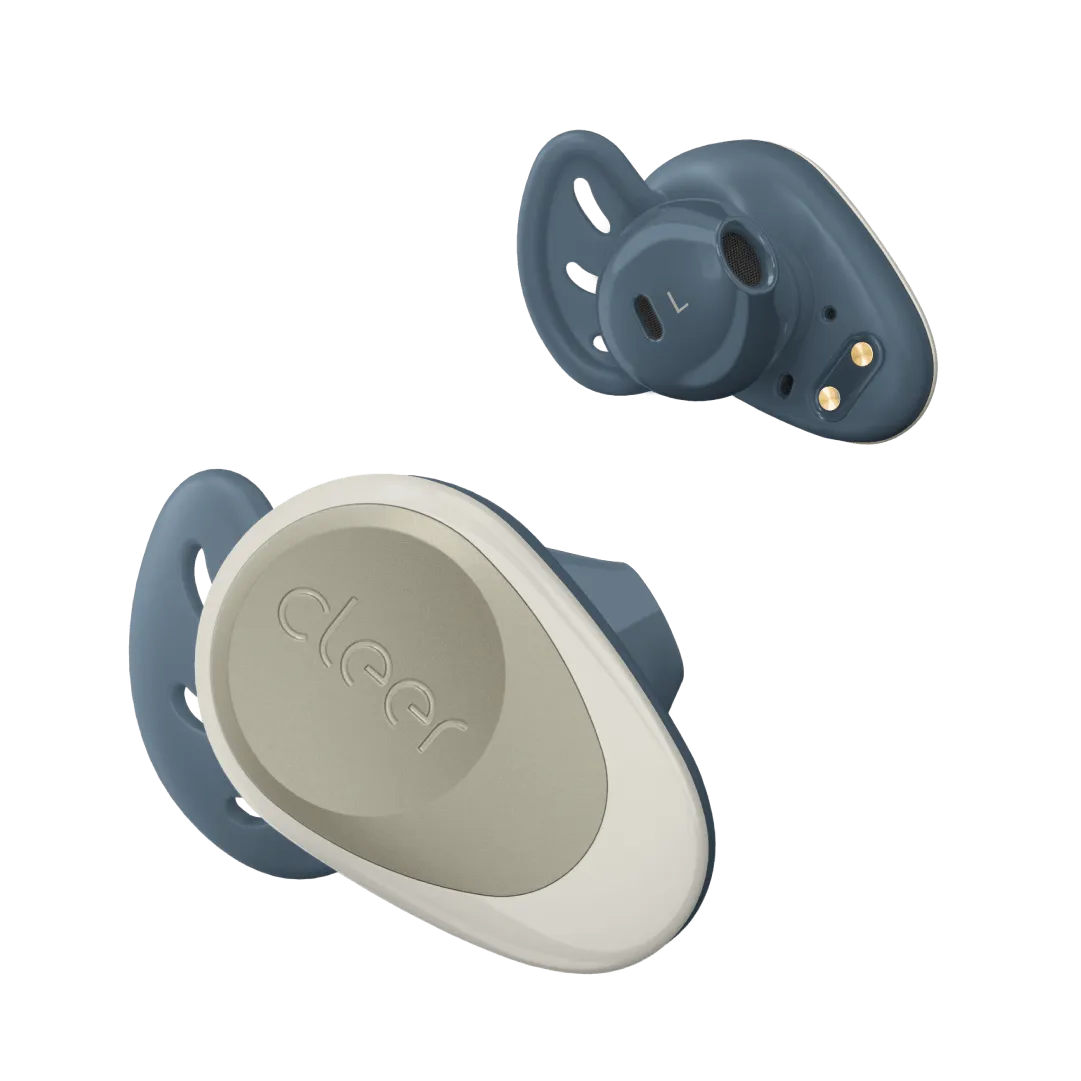 GOAL
True Wireless Sport Earbuds for Adventure and Workout
$99.99