ARC II SPORT
Open Ear Sport Earbuds
Arc II Sport is the first of our second-gen Arc open-ear series of earbuds. We've upgraded the open-earbud experience that we helped pioneer and introduced numerous improvements. Arc II Sport features greater flexibility for improved comfort, 6-axis motion sensor for hands free control, IPX5 water and sweat resistance, and improved battery life with an enhanced charging case. Arc II Sport also features Multipoint Connectivity allowing you to seamlessly switch between devices, so that you can listen to music from your computer and quickly answer a call from your phone.
Save 16%
Overview
ENHANCED COMFORT
Open-Ear Design with Flexible Earhook
Arc II Sport open-ear earbuds fit passively, without blocking out the sounds around you. They feature our unique earhook and hinge design with improved shape and added flexibility to improve fit and comfort.
IPX5 CERTIFIED
Intensity-Proof
Arc II Sport feature improved durability, now rated at IPX5 water resistance for excellent endurance no matter the intensity of your workout.
6-AXIS MOTION SENSOR
Hands-Free Control
In addition to the convenient touch controls, the Arc II Sport features an advanced six-axis motion sensor. This allows you to utilize effortless head gestures to answer and end calls, as well as control music playback - all while your hands are free to do other things.
BOLD & DYNAMIC AUDIO
Powerful Sound
& Multipoint Connectivity
Enjoy your music with dynamic and rich audio quality without sacrificing volume and bass thanks to the 16.2mm neodymium drivers that beam audio towards your ear canal.

Multipoint Connectivity allows you to seamlessly switch between devices, so you could listen to music from your tablet and then quickly answer a call from your phone.
UP TO 35HRS OF PLAYBACK
Smart Charging Case
Arc II Sport comes included with a new and improved case that now features an additional 27hrs of charge, meaning you can listen to your music on-the-go without needing to plug-in.

The case also features built-in UV light sterilization to kill any bacteria while your earbuds are charging.
CUSTOMIZABLE PERFORMANCE
Cleer+ App
With the free Cleer+ App you can personalize and adjust the EQ and music playback. Customize the device controls and receive firmware updates. Available on the Apple App Store and Google Play.
What's in the box
Open Ear Sport Earbud

Carrying Case

Charging Cable USB-C to USB-A

Quick Start Guide, User Manual, Warranty Card
Product Manual
Arc II Sport QSG
ARC II SPORT Specs
General
Weight

14g (per earbud) 130g (both earbuds and case)

Driver

16.2mm Neodymium Dynamic Driver

Frequency Response (Bluetooth)

20Hz-20kHz

Headphone Type

Open-Ear True Wireless Earbuds

Microphones

2-mic Beamforming with AptX Voice

Inputs

Bluetooth
Bluetooth
Bluetooth Version

5.3

Audio Formats

AAC, SBC, AptX Adaptive, AptX Lossless

Multipoint Connectivity

Yes
Battery
Battery Life

Up to 8hrs, In total 35hrs with charging case

Charge Method

USB-C charging case

Quick Charge

10min charge provides 1hr
Features
-Open-Ear, Flexible Earhook Style Earbud with Flexible Hinge

-Open-Ear design for spatial awareness

-Touch Controls

-6 Axis Motion Sensor enabling head gesture controls

-IPX5 Water and Sweat Resistance

-Slim Charging Case with UV Sterilization

-Multipoint Connectivity

-Snapdragon Sound

-Bluetooth LE Audio

-Loss Detection

-Sound Personalization via Cleer+ App
FAQ
Basic spec
What is the playback time of the ARC II Sport?
ARC II Sport earbuds provides up to 35 hours of continual playback with 8 hours in the earbuds and 27 hours of recharge time in the case.
---
What is the charging time of ARC II Sport?
ARC II Sport's charging case will be fully charged in 2 hours when using 5V1A wall adaptor
---
What is the battery capacity of ARC II Sport?
Each ARC II Sport earbuds is equipped with a high-capacity polymer lithium-ion battery. Battery capacity for each earbud is 85mAh, while the charging case is 500mAh.
---
What charging adapter can be used to charge the case?
For best results, it's recommend that you use a 5V1A qualified adapter or use a computer's USB interface to charge the case.
---
What charging port type using on ARC II Sport?
The ARC II Sport earbuds charging case has a USB-C charging port.
---
Is a power adaptor included?
The power adaptor needs to be purchased separately. To charge the ARC II Sport case, please use a qualified 5V1A power adaptor.
---
What is the weight of ARC II Sport?
ARC II Sport earbud weights 14g/0.03 lb. The charging case weights 100g/0.22 lb.
---
Is ARC II Sport waterproof?
Yes, ARC II Sport's earbuds are IPX5 certified.
---
What is the speaker size of ARC II Sport?
ARC II Sport built-in 16.2mm high quality graphene coating neodymium dynamic driver
---
What colors does ARC II Sport have?
ARC II Sport has 2 kinds of color Black and Red are available
---
What is the Bluetooth version of ARC II Sport?
ARC II Sport is with Bluetooth 5.3
---
What Bluetooth chipset is using on ARC II Sport?
ARC II Sport earbuds uses the Qualcomm QCC3071 chipset
---
What operating temperature is suitable for ARC II Sport?
ARC II Sport Headphones has a suitable operating temperature of 5-35°/41-95°F. If ARC II Sport becomes is placed in excessive heat or low temperatures, product performance many be affected.
---
Can ARC II Sport be paired with an Android phone or Apple iPhone?
Yes. ARC II Sport Earbuds is Bluetooth 5.3 compliant and backward compatible. It can be connected to all Bluetooth-enabled mobile phones (Android/iOS), tablet, PC, TV and other electronic devices
---
Does ARC II Sport support aptX?
Yes, ARC II Sport supports aptX adpative, it designed to be backwards compatible with aptX and aptX HD supported devices
---
Does ARC II Sport support Active Noise Cancellation?
No, ARC II Sport does not offer Active Noise Cancalation.
---
My ARC II Sport earbuds shut off automatically
ARC II Sport defaults to an auto-shut off after 15 minutes of no use. To change this, go to your Cleer+ App, click on the gear and then press "More Settings", then click on "Auto Power Off" and the set this function to your preferred Power Off time or simply press "Never" so it will turn off this function.
---
How do I turn my ARC II Sport earbuds on when my case is not availble?
Tap the Cleer logo on your earbud 3 times and on the 3rd tap, hold your finger until you hear the earbud say "Power On".
---
How do you pair to a smart phone with ARC II Sport?
Please both earbuds into their case and press the MFB button in the center of the case until the LED on the earbuds start flashing red and white. If the earbuds are out of the case, tap either earbud 5 times to put both earbuds into pairing mode. Once in pairing mode, go to your bluetooth list on your device and click on "Cleer ARC II" to connect.
---
Can ARC II Sport be connected to a computer?
Yes, ARC II Sport can be connected with a computers that supports Bluetooth.
---
My ARC II earbuds will not pair together.
Place both earbuds into the charging case and press the MFB button in the charging case 8 times. Both earbuds will go through a series of LED flashes for approximately 10 seconds, when that ends, both earbuds will be re-paired.
---
I'm unable to connect my ARC II Sport to my PC Bluetooth.
Check the following setting on your PC. Settings > Bluetooth & devices > Devices > Device Settings > Bluetooth devices discovery. Make sure that you're set to Advanced. Then try to reconnect your ARC II's to your PC via Bluetooth by pressing the MFB on your case for 5 seconds and press Add Device on your PC. Cleer Audio ARC II will be discovered.
---
Will the ARC II Sport reconnect automatically after being disconnected?
Yes, when the ARC II Sport is powered on, and is within Bluetooth range it will automatically reconnect.
---
How can you connect ARC II Sport to a second device?
Manually enter Bluetooth pairing mode on the ARC II Sport. When in pairing mode, Cleer ARC II Sport should appear in your Bluetooth device setting on your phone. Please refer to the ARC II Sport user manual for complete instructions.
---
Can ARC II Sport be connected to two devices?
Yes, the ARC II has Multipoint Connection so it can connect to two devices at one time.
---
Is there a factory reset?
Yes, please place both earbuds into the case. Once placed into the case, press the MFB button for 10 seconds until a voice prompt of "Restore Bluetooth setting" is announced on the earbuds. Release the button and they will complete the reset process.
---
Is the bluetooth connection stable?
The ARC II Sport is using Qualcomm QCC3071 solution alongside a specially designed Bluetooth antenna. According to Bluetooth version 5.3, this results in Bluetooth connectivity that is more stable, faster, and more resistant to interference.
---
How to control your ARC II Sport?
There is a touch panel on each ARC II Sport earbuds for control of volume, track, answer and end call, reject call and activate your native voice control. Please see the Quick Start Guide for specific control operation.
---
Product function
What functions does the ARC II Sport touchpad control?
The touchpad can control play/pause music, volume and answer/hang up calls. It can also control track skip and activate your native voice control.
---
Can I make a call with the ARC II Sport earbud?
Yes, each earbud of the ARC II Sport headphones are equipped with separate microphones, which can be used to support calls on either earbud or both.
---
They aren't loud enough.
Check the Headphone Safety settings on your mobile device to make sure that the output is set properly for your needs.
---
What is AptX Voice?
It's a new Bluetooth codec that improves voice call quality, offering 32KHz sampled audio with flat 16KHz frequency response.
---
What is Snapdragon Sound?
It's a technology developed by Qualcomm that is designed to deliver the best audio experience, for gaming, streaming music, podcasts and making voice and video calls. It guarantees a certain level of HD audio quality between compatible phones.
---
Is there an LED indicator?
ARC II Sport earbuds have an indicator on each side. In different states, there will be different lights. The ARC II Sport charging case also has an indicator light which shows red when the battery is below 20% remaining.
---
Will the remaining battery capacity be displayed after connecting the phone?
You can check the earbuds and case battery levels on the Cleer+ app.
---
Is there a low battery warning?
Yes. When the battery is less than 10%, there will be a "low battery" voice prompt.
---
Where can I download Cleer + App?
Cleer+ app app is avaliable at Apple AppStore and Google Playstore
---
Does it support power off timer?
Yes, there is a setting in the Cleer + App for different shut off times or you can completely turn off this feature.
---
Can you rename the Earbuds in your device?
Yes, user can the Earbuds in the Cleer+ App or mobile phone Bluetooth setting
---
FROM THE BLOG
In the ever-changing world of personal audio, headphones have solidified their place as must-have companions. They've become super popular among people who want to amp up their music and audio game. With so many...

Read More

In a world increasingly defined by the constant hum of activity, noise pollution has emerged as a ubiquitous companion in our daily lives. The persistent clamor of city traffic, the chatter of colleagues in...

Read More

The fitness world is undergoing a remarkable transformation, largely attributed to the advent of Open Ear Sport Earbuds. These cutting-edge audio devices are reshaping how we engage with our workouts, enhancing our experiences, and...

Read More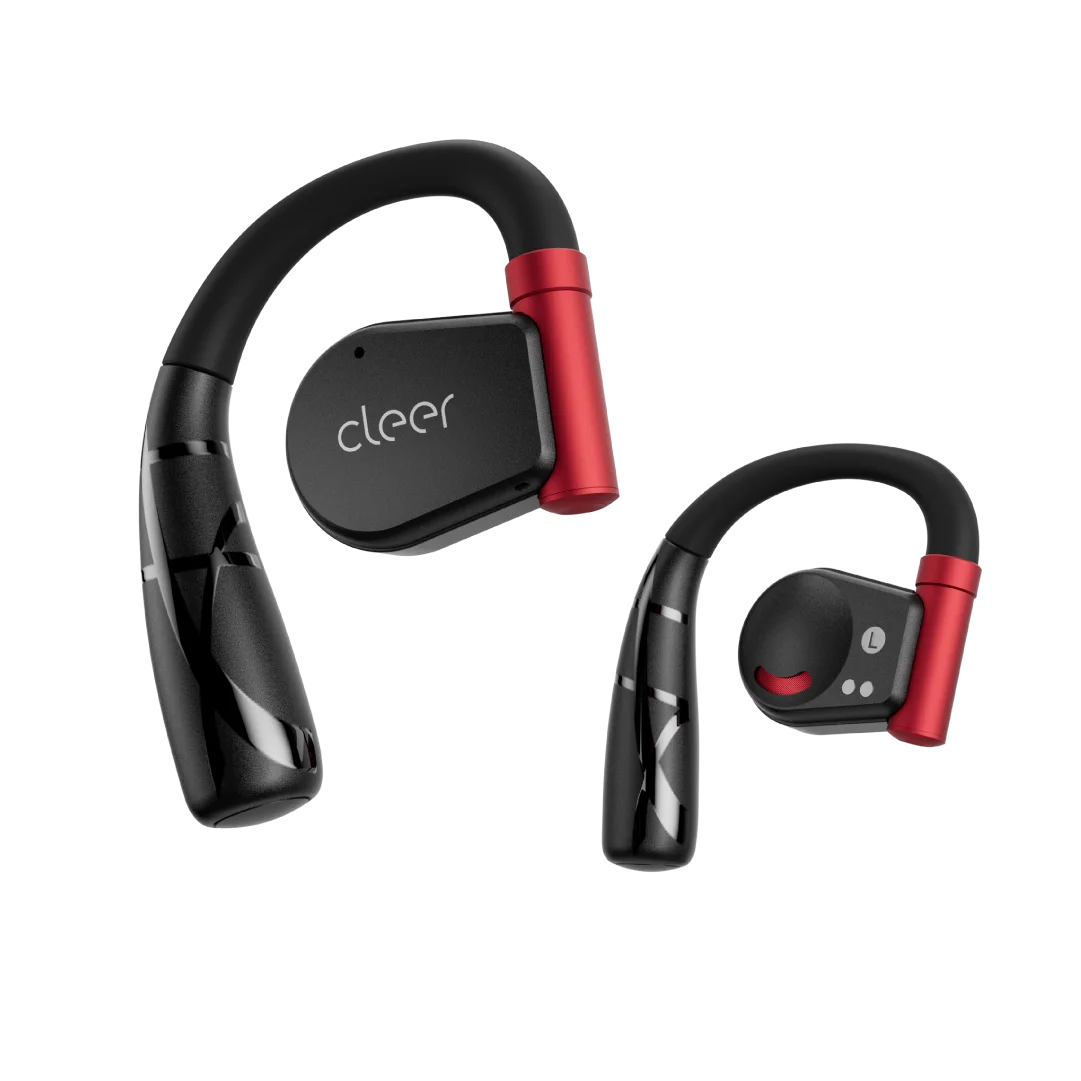 ARC II SPORT
Open Ear Sport Earbuds