ALLY PLUS II
Noise Cancelling True Wireless Earbuds
Ally Plus II true wireless earbuds with noise cancelling deliver industry-leading noise cancellation, and battery life for up to 11hrs of playback. Featuring strong wireless connectivity, enhanced call quality with dual-microphones, and Qualcomm cVc 8th generation noise reduction technology, these are a perfect companion for on-the-go lifestyles. With the Cleer+ app, you can customize noise cancellation and sound performance.
Save 23%
Overview
PEACE & QUIET
Noise Cancellation
& Ambient Mode
Industry leading active noise cancellation with Feed Forward and Feed Backward technology and custom filters provide up to 34dB for the peace and quiet you need while on-the-go. Ambient Awareness mode allows you to let the outside audio in to hear the world around you without removing your earbuds.
GO-ALL-DAY
Upgraded Battery
Extended battery life with up to 33hrs of on-the-go playback with the included charging case. *11hr battery life on full charge, 22hrs addtional with the charging case. Charging case supports USB-C and Qi wireless docks (not included).
DISTORTION-FREE
Powerful Sound
Cleer Acoustic Labs custom tuned 10mm dynamic graphene drivers deliver vibrant audio performance and powerful bass. Bluetooth® 5.2 with AptX™, AptX™ Adaptive, and dual microphones for enhanced call quality.
IPX4 WATER & SWEAT RESISTANT
Activity-Proof
IPX4 certified sweatproof and water resistant design provides confidence that the Ally Plus II True Wireless Earbuds will make it through workouts or being caught in the rain.
CUSTOMIZABLE PERFORMANCE
Cleer+ App & Mimi Sound Personalization
With the free Cleer+ App, you can customize EQ, Noise Cancellation and Ambient levels, get firmware updates and more. Every ear is unique and as a result, we all hear differently. By assessing your hearing ability through the Mimi Hearing Test in our Cleer+ App, Mimi provides the best sound personalization for your ears.
CONTROL AT YOUR FINGERTIPS
Customizable Controls
Intuitive Touch Pad gestures allow you to control music, volume, calls, and your voice assistant. With the free Cleer+ App, you can customize touch gestures and their functions.
WHAT'S INSIDE THE BOX
Ally Plus II Earbuds & Charging Case

Quick Start Guide, User Manual, Warranty Card

Charging Cable USB-C to USB-A

Round ear-tips XS / S / L / XL *M size pre-attached to Earbuds

Angled ear-tips S / M / L
PRODUCT MANUAL
ALLY PLUS II Quick Start Guide (PDF)
ALLY PLUS II Specs
General
Weight

6.8g (per earpiece), 58g (both earpieces and case)

Driver

10mm graphene dynamic driver

Frequency Response

20Hz-20kHz

Headphone Type

True Wireless Earbuds

Microphones

Qualcomm cVc 8th gen

Inputs

Bluetooth
Bluetooth
Bluetooth Version

5.2

Audio Formats

MP3, SBC, aptX Adaptive
Battery
Battery Life

Up to 11hrs per earbud, Up to 22 adtl. hrs with charging case

Charge Method

Qi wireless charging enabled/USB-C Charge Case

Quick Charge

5min charge provides 1hr; less than 2hrs for full charge via USB-C
Features
-Adaptive Active Noise Cancellation suppressing sound by 34dB

-Ambient Sound Control

-IPX4 water resistance certified (earbuds only)

-Touch Controls

-Wear Detection Auto Play/Pause

-Sound Personalization via Cleer+ App

-Mimi Hearing Health Sound Personalization via Cleer+ App
FAQ
BASIC SPEC
What is the playback time of Ally Plus II?
Ally Plus II provides up to 11 hours of playback with ANC off, or up to 10 hours of playback with ANC on when fully charged.
---
What is the charging time of Ally Plus II?
lly Plus II's charging case will be fully charged in 2 hours when using 5V1A wall adaptor.
---
What is the battery capacity of Ally Plus II?
Each Ally Plus II earbud is equipped with a high-capacity polymer lithium-ion battery. Battery capacity for each earbud is 85mAh, while the charging case is 500mAh.
---
What charging adapter can be used to charge the case?
For best results, it's recommend that you use a 5V1A qualified adapter or use a computer's USB interface to charge the case.
---
What charging port type is used on Ally Plus II?
The Ally Plus II charging case has a USB-C charging port and is also Qi enabled for use with compatible wireless charging pads.
---
Is a power adaptor included?
No, a power adaptor is not included. To charge the Ally Plus II case, please use a 5V1A power adaptor.
---
What is the weight of Ally Plus II?
Ally Plus II earbud weights 6.8g/0.015 lb. The charging case weights 44.4g/0.098 lb.
---
What is the speaker size of Ally Plus II?
Ally Plus II has 10mm high quality graphene coated neodymium dynamic drivers.
---
What color does Ally Plus II have?
Ally Plus II is available in 2 colors; Navy and Stone
---
What is the Bluetooth version of Ally Plus II?
Bluetooth 5.2
---
What Bluetooth chipset does Ally Plus II use?
Qualcomm QCC5141 chipset
---
What operating temperature is suitable for Ally Plus II?
Ally Plus II has a suitable operating temperature of 5-35°/41-95°F. If Ally Plus II becomes is placed in excessive heat or low temperatures, product performance many be affected.
---
Does Ally Plus II can be paired with Android phone or Apple iPhone?
Yes. Ally Plus II is Bluetooth 5.2 and backward compatible with older Bluetooth versions. It can be connected to all Bluetooth-enabled mobile phones (Android/iOS), tablet, PC, TV and other electronic devices
---
Does Ally Plus II support aptX?
Yes, Ally Plus II supports aptX adaptive and is backwards compatible with aptX and aptX HD supported devices
---
Does Ally Plus II support Active Noise Cancellation?
Yes, Ally Plus II supports Active Noise Cancellation, noise cancellation strength can be adjusted via the Cleer+ app.
---
How many different sizes of eartips do you provide?
5 sizes of round silicone ear-tips and 3 sizes of angled silicone ear-tips, test and switch between sizes to find the correct fit. You want to have a comfortable seal with the eartip.
---
PRODUCT FUNCTION
How do you pair to a smart phone with Ally Plus II?
Rapidly tap the touchpad on either earbud 5 times, the earbud indicator LED flashes red and white (Blue) alternately. At this time, the earbuds will enter Bluetooth pairing mode. Select Cleer Ally Plus II in the Bluetooth list on your phone or computer to connect your device. Please refer to the owners manual for additional information on how to pair the Ally Plus II earbuds.
---
Can Ally Plus II be connected to a computer?
Yes, Ally Plus II can be connected with computers that supports Bluetooth.
---
Where can I download the Cleer+ App
Cleer + app can be found in the Apple App and Google Play app stores. Simply search Cleer+
---
I'm having issues pairing the earbuds to the Cleer+ app?
1. Remove/Uninstall all the Cleer+ app on your phone. 2. Forget the device in your Bluetooth list (Ally Plus II) 3. Re-install the Cleer+ app from your selected app store 4. Pair the Ally Plus II to your smart device. (5 rapid taps to touch pad then hold finger on the touchpad on either earbud. For more info on pairing your earbuds refer to user manual 5. Once paired, place the Ally Plus II earbuds back into their charging case. 6. Open the Cleer+ app 7. Remove Ally Plus II from charging case 8. Follow on-screen prompt to pair to app. 9. Ally Plus II should be paired to app. If you're still running into issues, please contact our customer support via our website.
---
Does Ally Plus II reconnect automatically after disconnected?
Yes, when the Ally Plus II is powered on, and is within Bluetooth range it will automatically reconnect.
---
How can you connect Ally Plus II to a second device?
Manually enter Bluetooth pairing mode on the Ally Plus II. When in pairing mode, Cleer Ally Plus II should appear in your Bluetooth device setting on your phone. Please refer to the Ally Plus II user manual for complete instructions.
---
Can Ally Plus II be connected to two devices at the same time?
No, Ally Plus II only can be paired and connected to one device at a time.
---
How to clear Ally Plus II's Bluetooth memory?
"To clear the pairing memory, take the following steps: 1. Put both earbuds into the Bluetooth pairing mode; 2. Press and hold the touchpad (3 seconds) until the red light flashes 3 times; 3. The pairing memory is cleared."
---
Is the bluetooth connection stable?
The Ally Plus II is using Qualcomm QCC5141 solution alongside a specially designed Bluetooth antenna. According to Bluetooth version 5.2, this results in Bluetooth connectivity that is more stable, faster, and more resistant to interference.
---
How to control your Ally Plus II?
There is a touch panel on each Ally Plus II earbud for control.
---
What functions does the Ally Plus II touchpad control?
The touchpad can control play/pause music, volume and answer/hang up calls. It can also control track skip, noise cancellation/ambient modes. The touchpad functions can be customized through the Cleer+ app.
---
Can I make a call with the Ally Plus II earbud?
Yes, each earbud is equipped with separate microphones, which can be used to support calls on either side of earbuds.
---
Is the music automatically paused when there is a call?
Yes. When there you answer a call with either Ally Plus II earbud, the music will automatically pause. When you hang up, your music will resume.
---
Does the music stop/start when earbuds are removed or placed back into your ears?
Yes, each earbud has a sensor that will pause music when you remove an earbud or re-start music when you place them back into your ear.
---
Is there voice assistant?
Ally Plus II can trigger your connected devices' default voice assistant by a long press of the touchpad
---
Is there LED indicator?
Ally Plus II earbuds have an indicator on each side. In different states, there will be different lights. The Ally Plus II charging case also has an indicator light which shows battery status. For more information on LED indicator lights and what they mean, please refer to the user manual.
---
Will the remaining battery capacity be displayed after connecting the phone?
You can check the earbuds battery level on Cleer+ app.
---
Is there a low battery warning?
Yes. When the battery is less than 10%, there will be a "low battery" voice prompt.
---
Does it support power off timer?
No, but the earbuds will turn off once placed into the charging case
---
Can you rename the Earbuds in your device?
Yes, user can the Earbuds in the Cleer+ App or mobile phone Bluetooth setting.
---
FROM THE BLOG
Even with the growing popularity of headphones, none of the models at the time could cancel noise as we know it today. The technology took decades to develop and perfect before reaching everyday consumers....

Read More

We all know that feeling. It starts with static sound from one side of your true wireless earbuds and one fateful day, that side of your earbuds stops working. You end up with a...

Read More

To understand what neodymium drivers are, we first need to look at what they're made of. Neodymium magnets are the strongest type of magnet in the world and can deliver exceptional magnetic force in...

Read More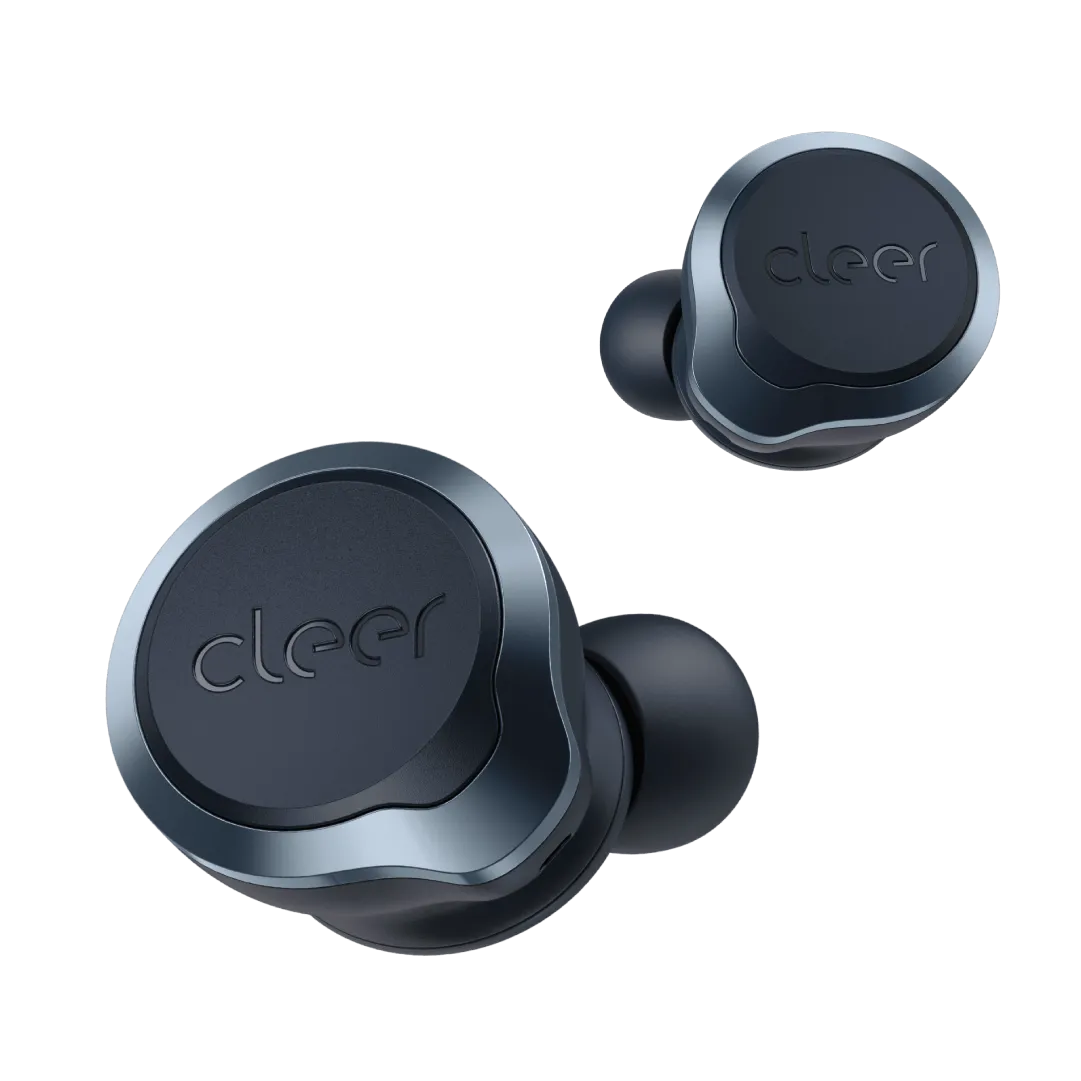 ALLY PLUS II
Noise Cancelling True Wireless Earbuds