CRESCENT
Smart Audio Speaker
Crescent Smart Audio Speaker is an example of how our design team "Owns the Moment", stepping away from the monotonous styling of the modern speaker landscape and creating an all-in-one sound system that compliments the interior of any room in the home. Crescent will support wireless music streaming from a wide variety of popular services, including Hi-Res file formats.
Save 14%
Overview
BEAMFORMING TECHNOLOGY
Immersive Listening
Our advanced beamforming technology allows for flexible placement and listening positions, giving you a realistic acoustic experience from a compact integrated speaker. Experience an expansive sound stage typically reserved for larger, more expensive audio products.
STEREO WIDENING

Experience a well-defined, wide stereo soundstage that expands well beyond the physical speaker's placement.

3D

Unlike previous all-in-one systems, Crescent can surround the listener in three-dimensional, high definition audio regardless of wall locations or reflected acoustics.

ROOM FILL

For occasions with multiple listeners, we've created an ultra-wide sweet spot that engages listeners equally in every corner of the room.
CAREFUL ENGINEERING
Performance Audio
Crescent utilizes a linear array of eight custom 40mm full-range drivers and dual 84mm woofers. Unwanted sonic resonance is eliminated thanks to a glass reinforced substructure and geometrically vaulted design.
SMART AI
Google Assistant built-in
With Google Assistant built-in, you don't need to lift a finger to control your media, get the latest news, or control your smart home.
INTUITIVE BUTTON CONTROLS
Seamless Interface
Straightfoward physical buttons allow you to mute the microphone, and control media playback, volume, soundmodes, and source.
MACHINED ALUMINUM
Cleer Craftsmanship
A handcrafted stainless steel speaker grille and machined aluminum interface demonstrate the exceptional attention to detail that gave Crescent life.
OWN THE BEST
Award Winning Speaker
Crescent is an award-winning speaker. Recipient of Newsweek's Best of CES 2020, House Beautiful's Best of CES 2020, and AVS Forum's Best of CES 2020.
FUNCTIONAL I/O
Smart Connectivity
Crescent supports popular music streaming services such as Spotify Connect and streams Hi-Res audio from your iOS or Android devices with Apple AirPlay or Chromecast. Crescent connects to your analog or digital device with Optical, AUX-In and Bluetooth® connectivity.
What's in the box
CRESCENT Smart Audio Speaker

User Manual

Power Adapter

Power Cable
User Manual
CRESCENT Quick Start Guide (PDF)
CRESCENT Specs
General
Weight

5.6Kg

Dimensions

660mm x 184mm x 119mm

Drivers

40mm Full range driver 8W x 8 + 84mm Woofer 25W x 2

Inputs

Line In AUX 3.5mm, Optical, Bluetooth, LAN

Microphones

Yes
Connectivity
Bluetooth Version

4.2

Audio Formats

MP3, WMA, FLAC, Apple Lossless

Network Connection

LAN (RJ 45 Ethernet), WiFi (2.4GHz & 5GHz

Multi-room Streaming

Airplay 2, Google Chromecast

Streaming Services

YouTube Music, Spotify, Pandora, Deezer, and more
Features
-Google Assistant built-in

-Immersive Sound Mode DSPs: Stereo Widening, 3D and Room Filling Audio

-Timeless design appropriate for on-display location

-Beamforming Technology
FAQ
Basic spec
What is the rated speaker power of Crescent?
90W
---
What size power adapter should be used to charge for Crescent?
A 18V 5A adapter is recommended to power Crescent Smart Audio Speaker.
---
Is a power adaptor included?
Yes
---
What is the weight of Crescent?
The speaker weighs 12.34 lb.
---
What's the size of the speaker drivers in Crescent?
There are 8 full-range 1.57" dynamic drivers and two 3.3'' woofer
---
What Colors is Crescent available in?
Crescent Smart Audio Speaker is currently available in Champagne color
---
What connection is supported in Crescent?
WiFi, Bluetooth, Apple AirPlay2, Google Chromecast, Aux-in, Optical-in, LAN
---
What type of WiFi does Crescent support?
2.4GhHz & 5GHz WiFi connection is supported
---
What is the Bluetooth version of Crescent?
Bluetooth version 4.2
---
Can you pair an Android phone or iPhone?
In addition to WiFi, Crescent supports Bluetooth 4.2 and can be connected to Bluetooth-enabled mobile phones (Android/iOS), tablets, PCs, TVs and other electronic devices.
---
Does Crescent support Airplay2?
YES
---
Does Crescent support Aux input ?
YES, 3.5mm input is on the rear of the speaker.
---
Does Crescent support Opt input ?
YES, if connecting a television via optical connection, set the output of the TV audio to LPCM (Linear Pulse Code Modulation). This uncompressed format is supported by the Crescent. If you hear any distortion from the connected device, please check the TV settings and owner manual. The Crescent DOES NOT support Dolby.
---
Does Crescent support Google Assistant?
YES
---
How many far-field mics are in Crescent?
There are 2 far-field microphones to support voice recognition
---
What streaming music services are supported?
YouTube music, Spotify, Pandora, Deezer, TuneIn, iHeartRadio and any service that can be streamed with AirPlay 2 or Chromecast. Music Services are supported through the Google Home App. Please make sure to download this app from the GooglePlay store or Apple App store. Connect the Crescent to the app for voice assistant and services to work.
---
Can Crescent be used in the shower?
No
---
How can you safely clean the speaker?
Use a dry, soft cloth to wipe dust off the surfaces. Never use liquid cleaners or aerosol cleaners.
---
Product function
How can you connect Crescent Smart Audio Speaker via Bluetooth?
"You can connect to Crescent with Bluetooth in the following ways: 1. With Google Assistant, by saying "Hey Google, Bluetooth pairing". 2.Enter Bluetooth pairing mode by using the Google Home app. 3.Enter Bluetooth pairing mode by using the physical buttons, . Toggle the audio source button until the BT LED lights up, Press and hold the audio source button for 5 seconds to enter Bluetooth pairing mode. After entering Bluetooth pairing mode, the front LEDs will blink for 3 minutes, if there is a successful connection, the front LEDs will stop blinking."
---
Can Crescent connect to a computer?
As long as your computer supports Bluetooth audio, you can connect Crescent to your computer.
---
Will Bluetooth reconnect automatically after disconnected?
Yes, when the Crescent is Smart Audio Speaker powered on, and is within Bluetooth range it will automatically reconnect.
---
Can Crescent be connected to two devices simultaneously?
No, Crescent only can be paired and connected to one device.
---
Is the bluetooth connection stable?
The Crescent is using a specially designed Bluetooth antenna. This results in connectivity that is more stable, faster, and more resistant to interference.
---
Is the music automatically suspended when there is a call?
Yes, your music will automatically pause when a phone has an incoming call when paired to a phone via Bluetooth.
---
Is there voice assistant support?
Yes, Crescent Smart Audio Speaker has a built-in Google Assistant, please follow instructions in the Google Home app to set up Google voice services in Crescent.
---
How to activate AirPlay 2?
Crescent needs to be connected to the same Wi-Fi network as your iOS device. Please refer to the user manual for complete instructions.
---
Does Crescent have different audio modes?
Yes, Crescent offers three audio modes, refer to manual for description. Audio modes can be accessed by pressing the audio button on top of Crescent
---
Is there an LED indicator?
There is four indicator light at the front of Crescent to show the status. There is also indicator besides the button to show the status.
---
Does Crescent have tracking controls for music?
Yes, there are play/pause, volume up and volume down buttons on the top of Crescent Smart Audio Speaker. Also the music can be controled by voice by asking "Hey Google".
---
Where can I download Google home App?
Google home App is avaliable at Apple AppStore and Google Playstore.
---
Can I rename my Crescent speaker ?
Yes, you can rename your Crescent in the Google home app .
---
Can I mute the microphones for privacy?
Yes, press the microphone button on top of Crescent to mute the far-field mircrophones. This will disable Google from responding to your voice commands. Unmute the microphones to give a voice command.
---
Where should I place Crescent for optimal audio performacne?
Place your CRESCENT on any flat and stable surface near a wall outlet. Crescent works great for 3D mode and stereo widening mode if the listening range is 1.5 - 2.5 meters(5 - 8 feet) away from your CRESCENT. Position the Crescent 1-2 ft from a wall to increase bass and 3D mode performance.
---
If Crescent Smart Audio Speaker is unresponsive, how can I fix this?
"Reboot your Crescent. Press and hold the reset button at the rear of your Crescent for 5 seconds to restore factory settings."
---
How to use AUX or Opt input ?
Press the audio source button until the AUX or OPT LED lights up. Use an AUX audio cable or Optical audio cable to connect crescent to the playback device.
---
What device can connect with Crescent for music playback?
Cresecent can connect with most of Bluetooth output devices, Audio line-out (using 3.5mm cable) playback device and optical-out playback device. If connecting to a television via optical, make sure to chage the TV audio output to LPCM (Linear Pulse Code Modulation) to guarntee playback performance. When connecting playback devices to the Cresecent, please lower the volume of the Crescent before playback - especially when that device connected has it's own output amplification (3.5mm or optical connections). Once playback begins, you can adjust the volume to your preferred listening level. This will prevent damage to the Crescent.
---
How to power on Crescent?
Connect the power cable to Crescent Smart Audio Speaker and the power adapter, then connect into a power source.
---
How to power off Crescent?
Disconnect the power source.
---
FROM THE BLOG
Experience a paradigm shift in music listening with Open Ear Headphones. Say goodbye to the days of being disconnected from the world while immersed in your favorite music. Open Ear Headphones revolutionize the music...

Read More

In the realm of modern audio devices, the pursuit of pristine sound quality and immersive experiences has led to significant advancements in noise cancellation technology. Today, we delve into the concept of next-level noise...

Read More

In the fast-paced world of fitness, technology continues to revolutionize our workout routines. One remarkable innovation is the advent of true wireless sport earbuds, designed specifically for fitness enthusiasts. These earbuds bring a myriad...

Read More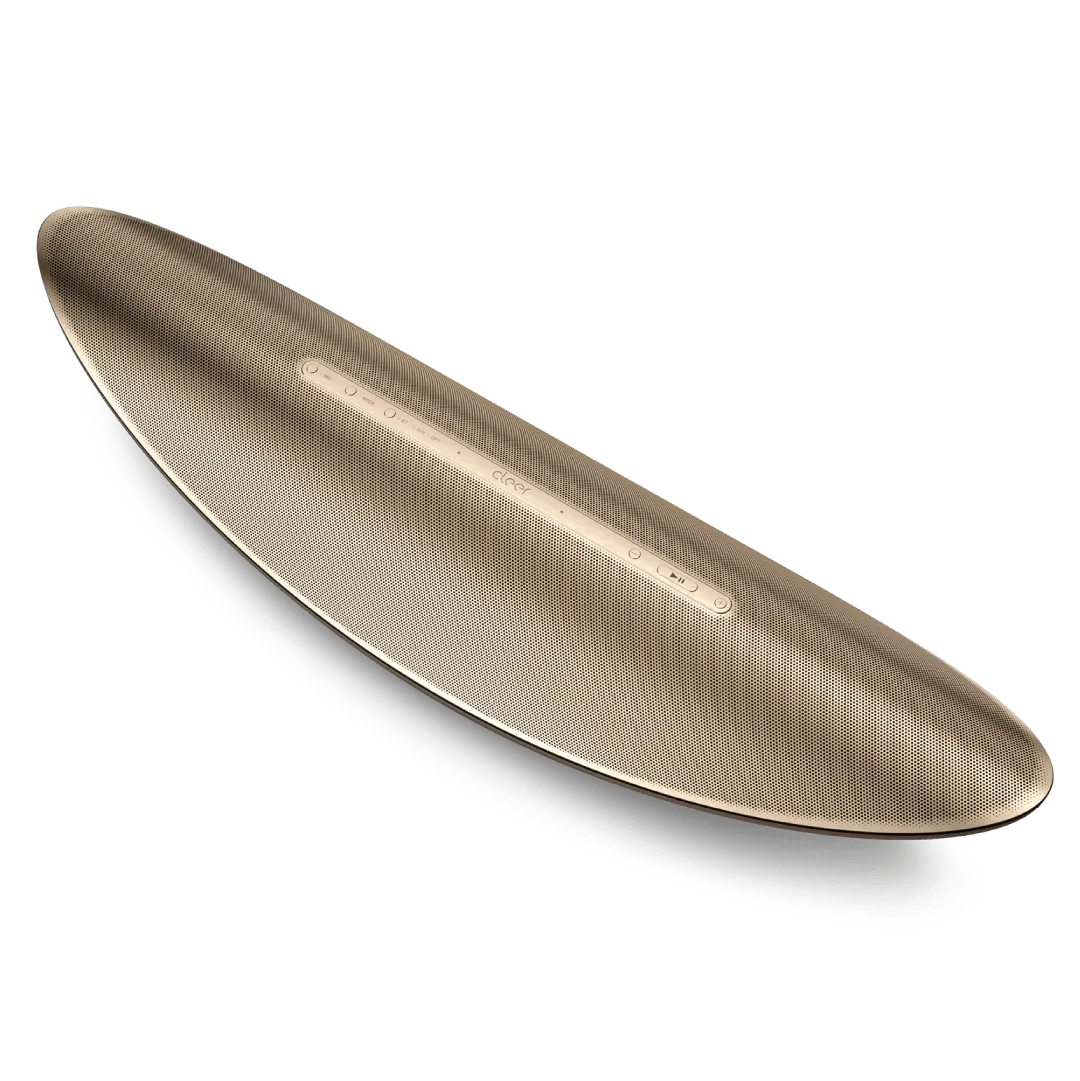 CRESCENT
Smart Audio Speaker