With the world poised to return to some sort of normalcy, and with summer on the horizon (at least in the northern hemisphere), more of us will be venturing out and about once again, reawakening our old daily routines. Returning to the office, for example, also means the return of the dreaded commute – standing on a station platform as a screeching subway car approaches. Or, in a much more welcome sense, it may mean a long-overdue vacation and a few hours sat listening to the familiar low-end hum of a jumbo jet engine, as well as those snippets of conversation from your fellow passengers. Active Noise Cancellation technology was a major innovative leap forward which changed the way many of us experience audio and travel. Most fundamentally, it reduces the often intrusive ambient noise of our everyday lives and provides a much more engaging and immersive listening experience in the process, whether you're listening to your favorite album or streaming the latest Hollywood blockbuster. Not only does it allow us to listen in detail, but it also has the power to turn noisy, intrusive environments (like airports, planes or subway cars) into much more serene and bearable experiences. Bluetooth noise-cancelling headphone technology is more sophisticated than simply blocking out noise, however. We've assembled some of the most frequently asked questions we routinely receive to help you find the listening experience you're looking for.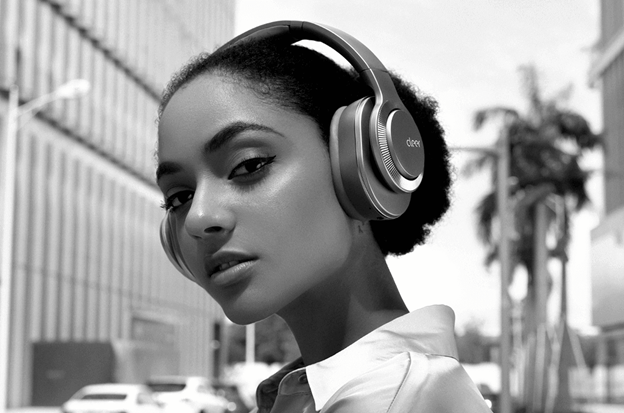 Are over-ear or in-ear wireless Bluetooth noise-cancelling headphones the best?
In short, both over-ear and in-ear Bluetooth noise-cancelling headphones can be incredibly effective. Typically, Bluetooth noise cancelling headphone like the Flow II offer the most robust noise cancelling capability and are ideal for anyone who also demands a high-quality listening experience as well as added features and functionality, such as a wired connection to plug into in-seat entertainment systems on airplanes. Their headphone ear cup also completely covers your ears, giving you a much better passive sound isolation experience. The most important thing is to consider how you'll be using your headphones, and what you find to be comfortable. If you're always on the go and require something more portable and pocket friendly, then in-ear wireless Bluetooth noise-cancelling headphones like the Ally Plus may be more convenient.
How does noise cancelling technology work?
Active Noise Cancellation uses small microphones on the outside of the earcups of your headphone to capture environmental sound that is then processed by the headphone neutralizing low-frequency noise before it reaches your ear. To get geeky, they do this by emitting a phase inverted soundwave to cancel out (neutralize) the undesirable frequency originating from your surroundings. With over-ear headphones like the Flow II, you also get additional passive isolation – this is the material that surrounds or goes into your ear, acting as a physical barrier to reduce the amount of noise. This is also available with Ally Plus headphones – as the ear tip in the ear canal works as passive isolation as well.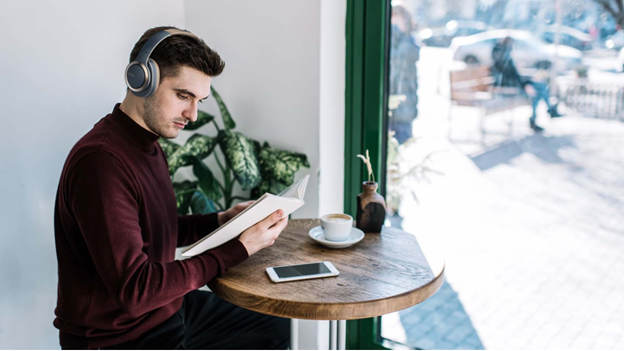 What sort of noises can I block out?
The majority of wireless Bluetooth noise-cancelling headphones are best at reducing low-frequency noises (air conditioning, TV drone, plane engines, office chatter etc.), whereas some higher-pitched noises (such as kids shouting, dogs barking, car alarms) are harder to directly eliminate. As a rule of thumb, this means that if someone talks directly to you, and you're not listening to music but have noise cancelling enabled, it's likely you will be able to hear them. Our Flow II headphones also have Conversation Mode – a handy feature where you can pause Active Noise Cancellation by placing your hand over the left earcup, which is great for when you want to order a coffee or have a quick chat by the watercooler without removing the headphones.
Can I sleep with noise-cancelling headphones?
This isn't ideal, as you can potentially damage your ears and your headphones. If noise is a problem when you're sleeping, we'd suggest looking into some dedicated sleeping headphones.
How can I get the best deal?
Luckily, our Spring Sale is now on across the site, so there's never been a better opportunity to grab yourself a bargain, whether that's earbuds, smart speakers, or a wireless Bluetooth noise cancelling headphone with Google Assistant.