ALLY PLUS
Noise Cancelling True Wireless Earbuds
Create exceptional peace and quiet with powerful, digital noise cancelling performance. Using a feedforward and feedback noise cancellation process, these earbuds suppress up to 30dB of environmental noise. With the Ally Plus, you can let the environmental noise in as well with ambient awareness. The Ally Plus supports up to 30-hours of playback: 10 hours with the earbuds and an additional 20 with the charging case. Pairing its custom 10mm neodymium drivers with digital amplification, there's no excuse why you can't enjoy your favorite playlist throughout your active day.
Product added to wishlist!
Overview
Noise Cancellation
& Ambient Mode
With Active Noise Cancellation you can easily tune out distracting environmental noise and tune in to your music, calls, or podcasts. Ambient mode allows the Ally Plus to let in outside noise so that you can have conversations or be more aware of your surroundings without taking out your earbuds.
IPX4 Sweatproof
The Ally Plus True Wireless Earbuds are built to survive any workout, or the occasional rainy day with IPX4 rated water & sweat resistance.
Lasting Battery
Up to 30hrs of on the go playback with the included charging case.
*10hr battery life on full charge, 20hrs of additonal with charging case.
CLEER Sound
Bluetooth 5.0 and AptX™ Technology paired with our dynamically tuned 10mm Neodymium driver provides you with premium audio quality. Enjoy your music and calls with deep bass, balanced mids, and detailed highs.
Easy Controls
Touch pad gestures allow you to control music, calls, volume, and sound modes. Auto Play/Pause means your media will automatically pause when you take your earbuds out, and resume when you place them back in.
Specs
ALLY PLUS DETAILS
10mm Neodymium drivers
Swipe control for volume
Industry leading 10 hours battery life*
Included slim carrying case provides additional 20 hours of playback
Adaptable Digital Noise Cancellation
Latest beamforming technology for enhanced call quality
Seamless design with ergonomic fitting earbuds design
IPX4 water resistance
* 10 hours of battery life with noise cancelling off at 75% volume
WHAT'S INSIDE THE BOX
ALLY II
Headphones
Silicon Eartips
(XS, S, M, L, XL)

USB Cable

Carrying Pouch

Charging Case

Quick Start Guide
PRODUCT MANUAL
ALLY PLUS Quick Start Guide (PDF)
FAQ
Playback Time
ALLY Plus can provide you 10+ hours playback time continuously with fully charge, 8+ hours playback time when it's in NC mode.
---
Charging Time
ALLY Plus case and earbuds can be fully charged in 3 hours with 5V1A output adaptor.
---
Battery Capacity
ALLY Plus each earbud is equipped with high-capacity polymer lithium-ion battery with a capacity of 85mAh. Charging case is 545mAh.
---
What size adapter is used to charge the case?
Recommend that you use a 5V1A qualified adapter or use the computer's USB interface to charge directly.
---
What is the type of charging port?
ALLY Plus has USB-C charging port.
---
Is an adapter included?
A wall charger is not included and will need to be purchased separately. We recommend a 5V1A qualified adapter.
---
What is the weight of the Ally Plus Earbuds and Case?
ALLY Plus earbud weight is about 6.5g/.014 lb, charging case weight is 67g/.147 lb.
---
Is the Ally Plus waterproof?
The Ally Plus is IPX4, water-resistant and sweatproof.
---
What size is the driver?
10mm high-quality neodymium dynamic driver.
---
What version Bluetooth is in Ally Plus?
Bluetooth 5.0
---
What Bluetooth chipset does Ally Plus use?
ALLY Plus uses Qualcomm QCC5124 chipset.
---
What is the operating temperature?
ALLY Plus has a suitable operating temperature of 5-35°/41-95°F. Excessive or too low temperature may affect product performance.
---
Is it compatible with an iPhone?
Yes. The ALLY Plus is Bluetooth 5.0 compliant and backward compatible. Can be connected to all Bluetooth-enabled mobile phones (Android/iOS), tablet, PC, TV and other electronic devices
---
Does Ally Plus support AptX?
Yes
---
Does it support aptX HD?
No
---
Does it support HD Audio?
No
---
Does it support AAC?
Yes
---
Does it support Active Noise Cancellation?
The ALLY Plus are active hybrid noise canceling earbuds with a microphone inside and outside the ear cup. They take measurements and react instantly to cancel the noise, and the ANC performance is excellent.
---
Is there controls on the earbuds?
Yes, swipe up or down to control volume, tap for noise cancellation, ambient mode and play/pause.
---
What kind of controls?
There are touch pads on each ALLY Plus earbud.
---
How can you connect to a smartphone?
Take out any earbud and touch the touchpad 3 times quickly, and third on the third time hold it for 2 seconds or more until the earbud indicator LED flashes red and white alternately. At this time, the earbuds enter the Bluetooth pairing mode. Select Cleer ALLY Plus in the Bluetooth list to automatically complete the Bluetooth pairing. In the pop-up window select "Pairing" and the second earbuds will automatically complete the pairing. Now you can start using the earbuds.
---
Can Ally Plus be connected to a computer?
Yes, when headphone is powered on, if it returns to the Bluetooth range within 10 minutes and will automatically reconnect.
---
If the Bluetooth is disconnected, can it be reconnected to automatically?
Yes, when headphone is powered on, if within the Bluetooth range it will automatically reconnect.
---
If I've already connected the Ally Plus to a phone, how can you pair with another device?
Manually enter Bluetooth pairing mode and connect another device.
---
Can it support two connected devices at the same time?
No
---
How can you clear the Bluetooth memory?
To clear the pairing record, take the following steps:
1. Take the earbuds out of the charging case;
2. Put both earbuds into the Bluetooth pairing state; 3. Press and hold the touchpanel until the red light flashes 3 times;
4. Put the earbuds back into the charging case and leave it for about 10 seconds;
5. The pairing record is cleared.
---
How to control headphone with the touch panel?
The ALLY Plus earbuds can be swiped up and down to adjust the volume. Double touch to play/pause songs or answer/hang up calls. Long press to change NC/Ambient/OFF mode
---
Can you use the Ally Plus for phone calls?
Yes, each earbud of the ALLY Plus headphones are equipped with separate microphones, which can be used to support calls.
---
Is the music automatically paused when answering a call?
Yes. When there is a call, the music will automatically pause. When you hang up, it will resume playing automatically.
---
Is there a voice assistant?
ALLY Plus does not support voice assistant service, if you press and hold the touchpad for longer than 2 seconds, the Ally Plus will activate your smartphone's voice assistant.
---
Is there an LED indicator?
ALLY Plus earbuds have an indicator on each side. In different states, there will be different indication. The ALLY charging box also has an indicator light for the battery status.
---
Will the remaining battery be displayed?
Yes, it will be displayed. in general, there will be a battery graphic in the notification bar of the mobile phone, and the remaining power will be displayed in a graphic form.
---
Is there a low battery reminder?
Yes. When the battery is less than 10%, there will be a "low battery" voice prompt.
---
FROM THE BLOG
Experience a paradigm shift in music listening with Open Ear Headphones. Say goodbye to the days of being disconnected from the world while immersed in your favorite music. Open Ear Headphones revolutionize the music...

Read More

In the realm of modern audio devices, the pursuit of pristine sound quality and immersive experiences has led to significant advancements in noise cancellation technology. Today, we delve into the concept of next-level noise...

Read More

In the fast-paced world of fitness, technology continues to revolutionize our workout routines. One remarkable innovation is the advent of true wireless sport earbuds, designed specifically for fitness enthusiasts. These earbuds bring a myriad...

Read More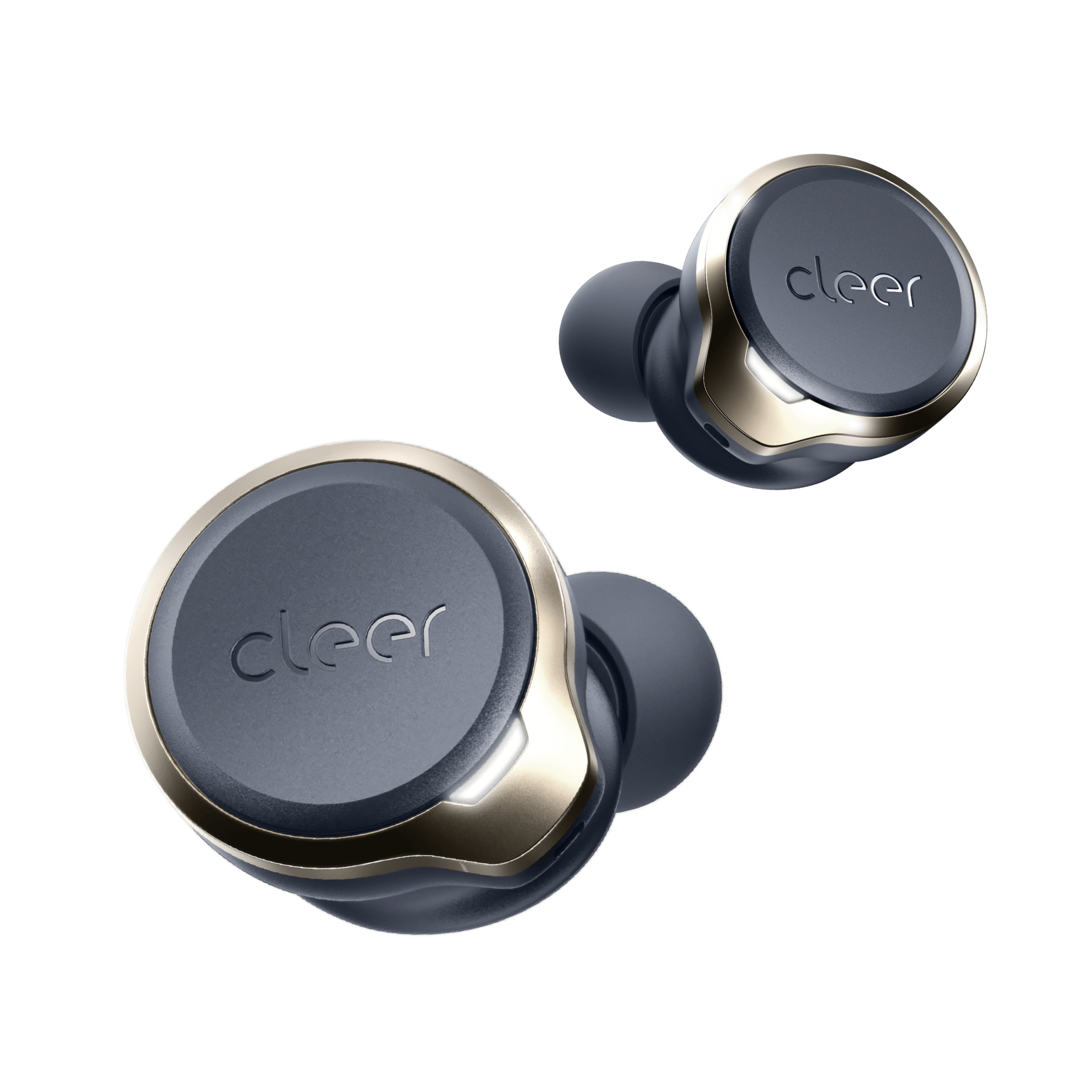 ALLY PLUS
Noise Cancelling True Wireless Earbuds
$149.99