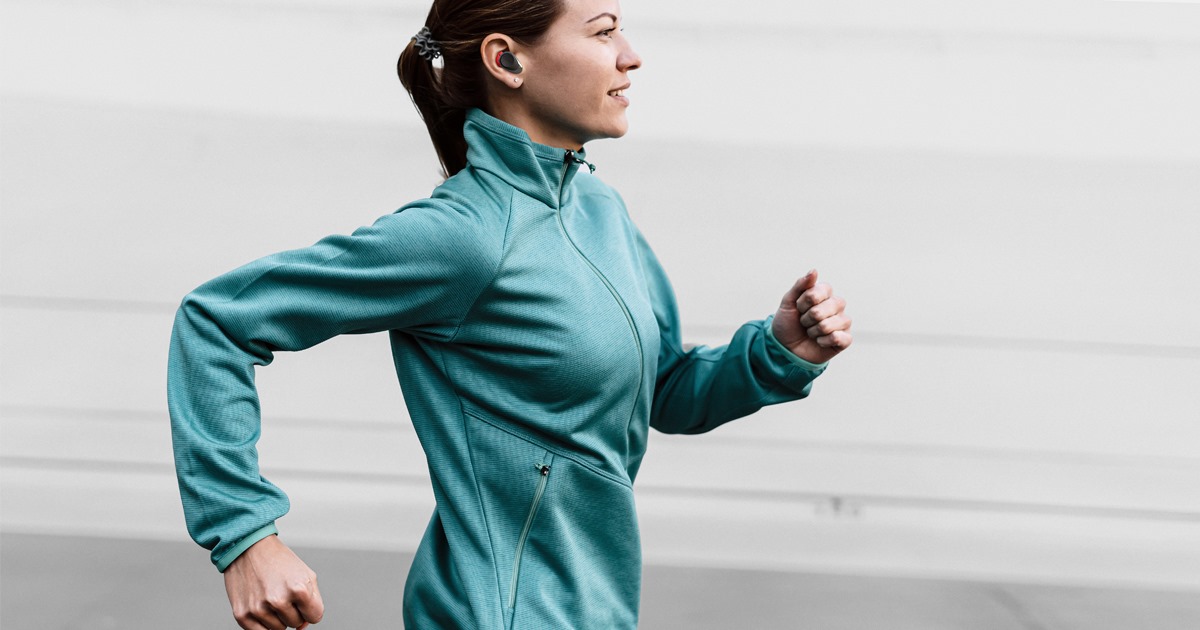 Let's face it, the right music can take your workout to the next level. Unfortunately, given the intense, ever-changing environment that surrounds the world of sport and physical activity, it can be difficult to find the right fit when it comes to wireless sport earbuds. We're using the term "fit" here in the broadest sense of the word. To start with, it needs to be fit for purpose. This means that they need to be comfortable to wear, durable to wear in even the toughest conditions and, of course, provide next-level sounds that power next level workouts. It also needs to fit comfortably into your ear and not slip out while you're out there becoming a fitter video of yourself. Losing an earbud on a run is not ideal, and going the caballed route is just not practical. So, based on this holistic view of "the perfect fit", we created Cleer Goal sport
true wireless sport earbuds
. They're designed to keep up with ambitious, active individuals and based on personal experience and positive reviews, we're proud to say that they absolutely deliver on this.
The need for Cleer Goal sport earbuds
In an age where wireless technology is king, it only makes sense that wireless earbuds and headphones become an everyday staple. Now, when it comes to powering our ambitions, these devices can make or break the experience. Bulky headphones are uncomfortable, and poor fitting earbuds are annoying. Enter
Cleer Goal
. In a market flooded with so many available options, we've created a set of earbuds designed for active individuals. Each aspect of these wireless Bluetooth earbuds has been carefully considered, designed, and implemented to make the most of your workout.
Why do you need a pair of Cleer Audio's Goal earbuds?
Comfortable on-the-go sound has been the main inspiration behind these innovative devices. They offer the world-class sound you've come to know with Cleer Audio, all packed into a discreet earbud that fits into your ear discretely. These true wireless sport earbuds with Google Assistant are not bulky or intrusive, instead, they seamlessly blend into your lifestyle. Adding to the design of these earbuds is the fact that they're water and sweat resistant, which means that if you're working up a sweat, or even if you get caught in the rain, the music will continue playing and the earbuds will power through. Even if you're not working out, these earbuds are the perfect lifestyle companion and offer a much-needed escape from reality with the press of a button.
Everything you need to know about Goal:
The earbuds have been designed to offer a comfortable, secure fit and feature a twist fit, c-shape wing
They're lightweight and unobtrusive
Crystal clear sound is delivered courtesy of the 14mm sound drivers
They're rated IPX4, which means they're sweat and water-resistant
The battery lasts up to 20 hours – 6 hours on a single charge and an additional 14 hours with the charging case
Easy to use, intuitive smart controls that use touchpad gestures to control the earbuds
Echo suppression and two powerful mics ensure that calls are a breeze
At a quick glimpse, it's easy to see why these earbuds are the ultimate workout companion. They've been created to last as long as you do, survive the conditions you endure and power your every movement – your way.
So, what are you waiting for?
The Clear Goal sport earbuds are perfect for your next level workouts, they've been designed with active individuals in mind and have even been associated with the United Soccer League. If the features don't persuade you to invest in a pair of these, then maybe the global affiliation will do the trick.