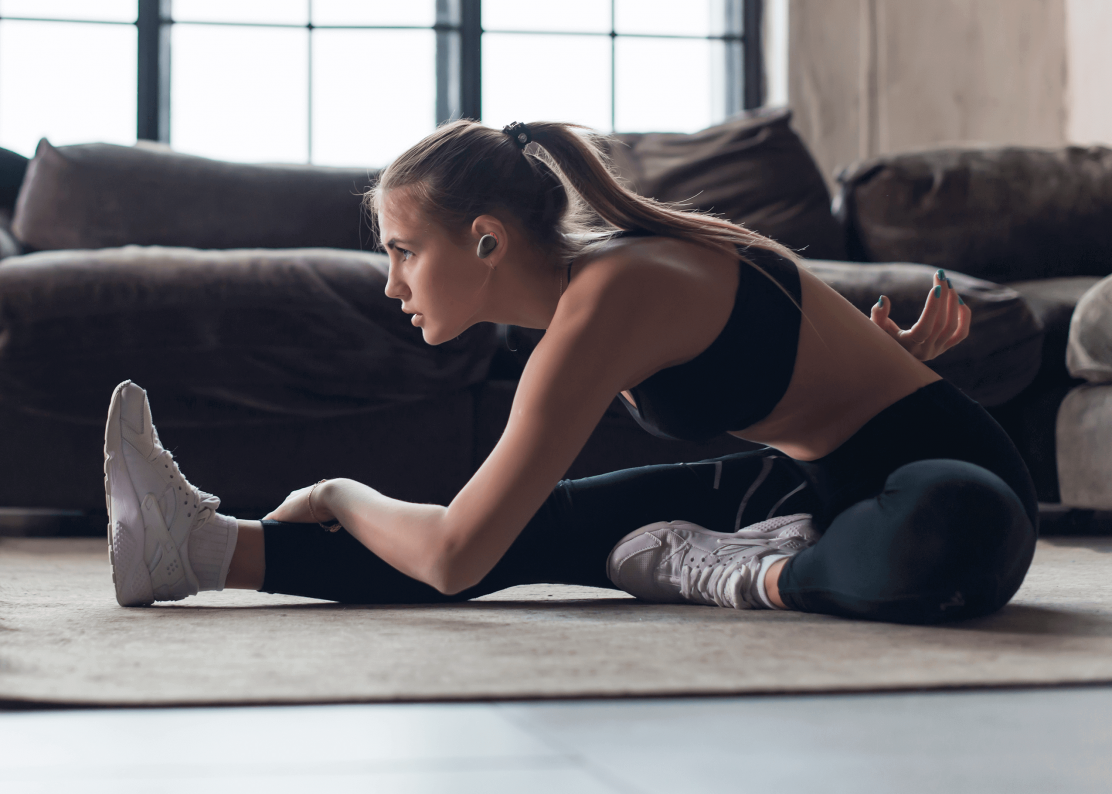 Just because the world has changed a lot, it doesn't mean you have to stop living an active lifestyle. While the gyms might be closed, or at least limited in some way, and your personal trainer might not be able to work with you, it doesn't mean you can't stay in great shape. After all, exercising and working out are great ways to promote positive physical and mental health, something we could all use a little more of right about now. Despite the fact that you have had to change your typical workout routine, it doesn't mean you can't make the most of a home workout. I mean, bingeing on Tiger King, ordering Postmates regularly, and having post-work from Zoom drinks is all great, but lockdown probably hasn't promoted the healthiest lifestyle available. Meanwhile, the inability to see your friends and family in social settings alongside the constant barrage of negative news in the media can all be detrimental to your mental health. Fortunately, it's never been easier or more effective to start doing home workouts. There are tons of YouTube videos you can exercise along with from ab workouts to yoga sessions, so anyone can find the right thing for them. With just a few simple additions to home, namely the best true wireless earbuds you can get your hands on, you'll be able to make your home workouts feel as effective as the gym, without having to watch people take mirror selfies. And it all starts with the Goal.
Goal
True wireless sport earbuds are a must for any home workout. Fortunately for you, our newest pair also happens to be the best true wireless sport earbuds we've ever made. The
Goal
offers you a home workout bubble that can't be matched as you can fully immerse yourself in whatever session you've chosen free from any distractions. Enjoy your carefully curated workout playlists in comfort as these wireless sport earbuds can maximize your intensity, even if you've had to clear some space to exercise at home. This quality is because the Goal has been designed for one thing; maximizing your workout. The focus has been not just on sound quality, which as usual is excellent, but on creating a comfortable perfect-fitting true wireless earbud that prioritizes listening comfort based on ergonomic designs. This creates a secure fit that never feels uncomfortable so it doesn't matter if you're doing weights, on the home bike, or doing a Crossfit workout, you won't notice these true wireless earbuds at all. Unlike many other true wireless earbuds out there, the Goal has a lightweight passive earbud design that rests outside of your ear canal for added comfort. This is important because as you exercise, your heartbeat increases and when wearing normal in-ear buds, you can feel your pulse in your ears from the higher pressure. We're all familiar with how weird and uncomfortable this can be, as well as distracting. As the Goal doesn't seal the ear canal, this issue is removed entirely If you're putting in a lot of effort, it's likely that you'll be sweating a lot. This is good for your body, but it can be incredibly bad for your wireless sport earbuds. Which is why the Goal comes with IPX-4 resistance as standard, meaning you can work out from home every day without worrying about damaging them. As well as this, they come with 6 hours of playback on just one charge (although if you're doing a workout that lasts longer than 6 hours we might have some questions for you…) so the Goal keeps going for even the most difficult of workouts. Echo suppression technology, two mic design, and a custom tuned 14mm dynamic driver all gives you an enhanced range of sound, meaning better audio clarity, letting you get completely into your workout zone. Who needs the gym when you've got the best true wireless earbuds?
Peloton Bike and Treadmills
As gyms have been closing their doors, home fitness companies have stepped in to fill the gap, Peloton is maybe the best example of this. They offer daily classes that happen in real time with instructors as well as a library of classes that give you a great cardio experience from the comfort of your own home. These classes will typically be synched to a music playlist, and Peloton will theme their classes, so in many cases the music is integral to getting a good work out. Pair them with your Goal true wireless earbuds and pretty quickly you'll be in the best shape of your life.
Auster Master
If you can't go to the gym, then bring the gym to you. Only this time you get to avoid all the people who don't put away the weights or wipe the machines down after use. The Auster Master is an entire gym in a bag, letting you get a full body workout without having to give up any floor space or dedicate an entire room to loads of treadmills and dumbbells. It's a set of suspension training straps and resistance bands which let you work out pretty much anywhere, indoors or out, so you can get the workout you want, wherever you are. It also comes with a free app that teaches you over 100 suspension, bodyweight and functional training exercises while Straps, Dynamic Bands and Power Rings can provide resistance or assist you in all exercises you would usually do at the gym.
MIRROR
So, let's say you want to go all out, you're finished with the gym for good, you've got your true wireless earbuds, and you're dedicated to home workouts moving forward. Splurge on the MIRROR and you're set for the rest of your life with this interactive home gym. Featuring an incredible archive of on-demand studio classes, the MIRROR can be customized to focus on whatever workouts you prefer and turns any space into a personal gym. Cancel your gym memberships, your personal trainer sessions, the MIRROR does it all and takes up next to no space while doing so.
Final Thoughts
Home workouts are the future, true wireless sport earbuds are the future. The Goal lets you take any exercise session you like to do and lets you maximize it in a more comfortable way. Plus, you get to listen to whatever you like as opposed to the music normally played at the gym. Even if you're on a rest day or get interrupted mid work out, the superb call quality and lightweight nature of the Goal means you can quickly switch from gym mentality to office mindset without ever having to take the earbuds out. Lockdown might have been difficult, but with these tech products and true wireless earbuds, you'll quickly be in the best shape of your life.