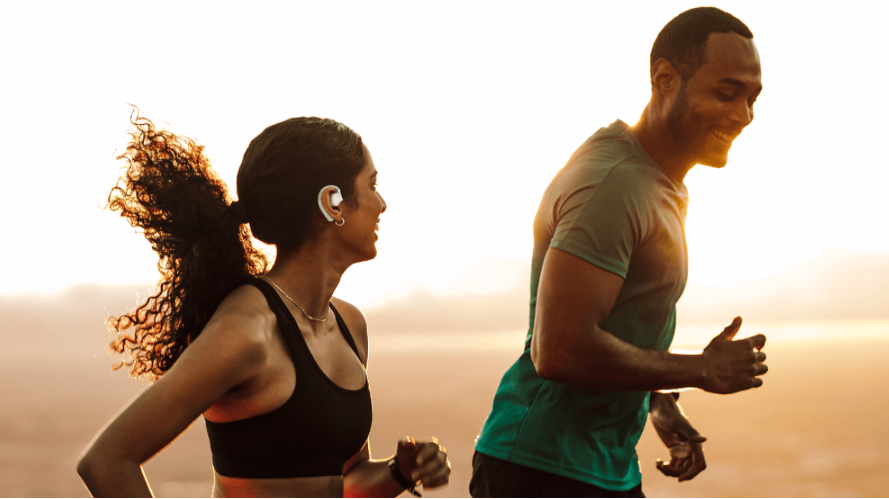 Let's talk about spatial awareness, shall we? It's a phrase doing the rounds when it comes to audio, and with good reason. Spatial audio awareness is a term that refers to a style of listening related to the design of your earbuds. We'll discuss this in detail below.
So, what is spatial audio awareness?
This term is split into two parts. The first refers to the ability to be able to
hear the world
around you while still being fully immersed in the track or podcast that you are listening to. This means that you can rock on to My chemical Romance while out on a run and still hear oncoming traffic. I don't know about you, but that sounds like a pretty great feature to have when you're an active individual.
The second part refers to the actual audio produced by the earbuds. Spatial audio awareness in true wireless earbuds delivers a 3D, larger than life sound experience. It provides a surround sound experience, almost as if you were in the middle of a live concert. In addition to this, the sound quality is also superior, after all, it has to live up to the reputation of the real-life experience.
By incorporating these two concepts into one state of the art device, you've got a real winner on your hands, and this is where
Cleer ARC Open Ear True Wireless Earbuds
steps in to change the sound game completely.
What is the importance of spatial audio?
The two main things to consider when it comes to spatial audio are the improved sound quality as well as enhanced safety while out and about. By not compromising on either of the two elements, you can enjoy your favorite sounds uninterrupted.
Cleer ARC features a unique design that allows users to maintain spatial awareness while still enjoying their favorite sounds – delivered by a 16.2mm graphene driver that produces dynamic sound quality. Sound impressive to you? We're pretty sure it does. Additional features that enhance the overall sound experience include:
Unique open ear design offering a flexible fit for maximum comfort without blocking out the world around you


Sound is delivered directly to the ear in all its high-definition glory while the open ear design allows for breathability and ambient sound awareness


IPX4 water and sweatproof rating to power through tough workouts and even rainy weather


Larger than life sound is produced with 16.2mm graphene drivers that beam toward your ears for a spatial audio experience like no other


A 7-hour battery life that ensures the earbuds last as long as you do, and is easily recharged with the charging pad integrated into the carrying case


Simple and easy to use touch controls for playing, pausing, skipping a track, answering calls, and even accessing your voice assistant on your phone. Simply use touch gestures to get the job done.


The Cleer+ App allows you to customize your sound experience, adjust the EQ and even receive firmware updates
Embrace the power of spatial audio awareness
You can now enjoy your favorite tracks, playlists, and podcasts without having to choose between safety and sound quality. With Cleer ARC, you can have the best of both worlds. And with its super comfortable waterproof design, you have everything you need to take on the world and own your day – your way. We think that's pretty cool, don't you?