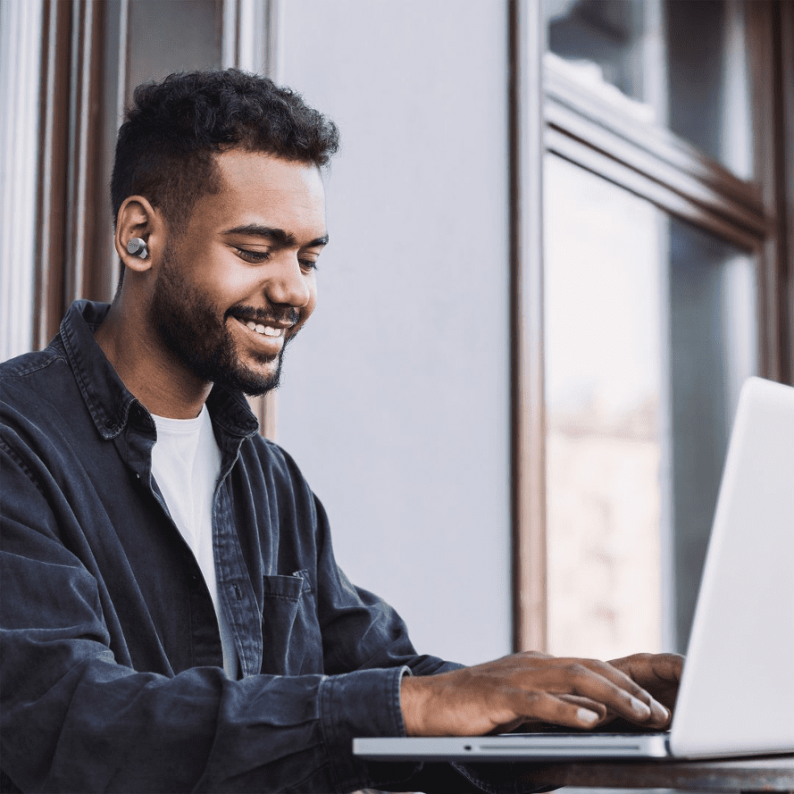 In a world where noise-cancelling technology is thriving, there is an element that needs to be considered when it comes to it all. The world around you. Of course, the purpose is in fact to block out the world, but what happens if you do want to hear the outside world? This is where transparency mode comes in.
So, what is transparency mode in earbuds?
It's sort of the opposite of noise-cancelling mode. Instead of the external mics on the earbuds or headphones blocking out the sound, they pick up the sound and allow it to pass through the device, allowing you to hear the outside world clearly – without removing your earbuds.
Clear Roam NC
features this technology, which is a great feature for those commuting and needing to hear when their stop is called, or those running in the road and needing to hear oncoming traffic. Earbuds are already a good option when it comes to noise-cancelling technology as they fit snuggly in the ear, blocking our noise without the ANC technology even activated – making it difficult to hear the outside world regardless. And once ANC has been activated, the world is truly blocked out. That is, unless you don't want it to be. Earbuds transparency mode allows you to hear more noise, more clearly. It allows you to be more aware of your environment, ensuring your safety.
It offers the best of both worlds
Earbuds such as Roam NC that feature noise-cancelling technology often include a setting that works in the opposite way. This is because the basics of both are the same: picking up sound. However, one seeks to block it out while the other embraces it. How wireless earbuds with transparency mode works is it identifies outside noises and plays it through the earbud. It can either pause the music while doing so or combine the two. This means that should you wish to; you can continue listening to music while talking to the person next to you. No need to compromise. Of course, this functionality works best when both earbuds are in use, however, transparency mode in earbuds can still be activated with only one earbud placed in the ear. Additional names for transparency mode include ambient awareness, hear through, social mode, chat mode, audio transparency, world volume and augmented hearing.
So, how does Roam NC fit in?
Cleer Audio's Roam NC is a true wireless Bluetooth earbud that features noise cancelling technology as well as ambient awareness, or transparency mode if you will. In addition to this, it also has industry leading features that include:
15 hours of battery life for on-the-go playback – 5 hours on a single charge and an additional 10 with the charging case
8mm dynamic drivers offering superior sound
IPX4 water and sweat resistant rating, making them suitable for exercising as well as taking on the great outdoors
Noise-cancelling technology able to block out up to 25dB of noise
Easy to use touch controls to adjust the volume, pause music or skip a song
Cleer+ App to control and adjust sound settings that include noise cancellation as well as ambient awareness
Transparency mode is essential
While the world is becoming obsessed with noise-cancelling headphones and earbuds, it's important to remember the other side of things – the ability to let the outside world in should you wish to. So, if you are looking for a pair of earbuds that offer noise-cancelling functionality as well as transparency mode, it should come as no surprise that we recommend Roam NC.