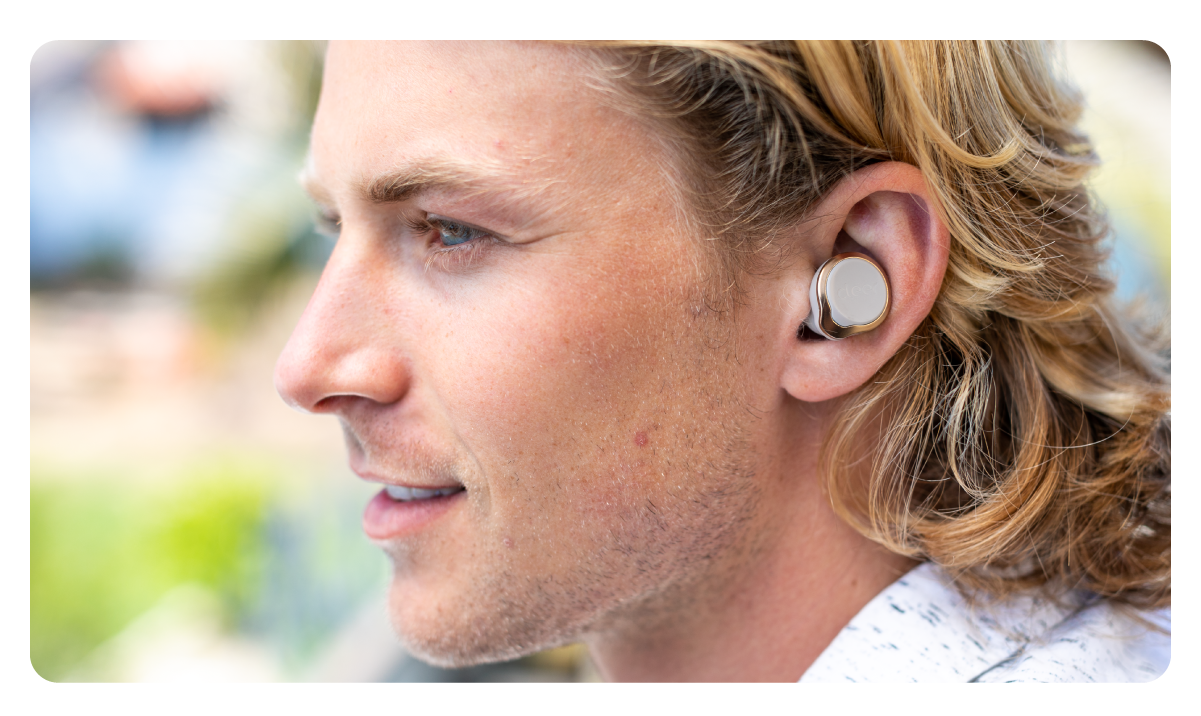 Whether you simply call them wireless earbuds or true wireless earbuds – those handy portable audio devices that sit in your ears and come with no wires are all the range right now. However, as with most pieces of tech, not all wireless earbuds are made equal. There are some truly great earbud products out there, and definitely some ones you'll want to avoid too. The most important thing to remember on your quest to find the perfect pair? Exercise your due diligence and make sure you've done your homework before taking the plunge. After all, our wireless earbuds are pretty much a staple item of everyday life now, right? So it's worth making sure you scoop up a truly great pair, and that you're getting the most bang for your buck too. So to make sure your next pair of wireless earbuds hit all the right notes, we've come up with a list of five things you should definitely be looking for before you buy...
1. Good battery life
Many true wireless earbud manufacturers these days are producing devices that will last you at least five hours. We'd suggest that anything less than this might not be worth paying through the nose for. As well as looking at the standard battery life of the ear buds after one charge, make sure you check out if they come with a durable charging case too as they'll need to protect them as well. Our latest wireless earbuds, the
Ally Plus II
, can certainly deliver on the long-lasting battery front. You can enjoy up to 33hrs of on-the-go playback with the included charging case, with a guaranteed 11-hour battery life from just one full initial charge. Who can ask for more than that?
2. Noise cancelling and other modes
Many wireless earbuds these days offer a nifty noise-canceling feature that can help reduce the annoying chatter of the office, to the droning sounds of the morning subway commute. However, it's also important for our noise cancelling true wireless earbuds to be able to let in outside noise too at times. Ambient mode means that you can keep aware of your surroundings by letting a little of the noise of the outside world into your ears too – super important if you're out for a run, for example. With the
Ally Plus II
, you can enjoy the best of both worlds, with industry leading noise-cancellation for those quiet times, as well as a clever "Ambient Awareness" mode that allows you to let noise in, without removing your earbuds.
3. Durability
Ask yourself this: is there anywhere we don't take our wireless earbuds these days? It seems not! Whether we're at home listening to an audiobook, on the train listening to a podcast, in the gym getting pumped to our favorite music, or linked up to our laptop for a conference call – your earbuds might as well be an extension of your very self! That's why it's super important to make sure the earbuds you select are going to be able to tough it out with you – day in, day out, no matter what life throws your way. Firstly, make sure your earbuds come with a solid protective case. A flimsy one simply won't do! Secondly, to keep the buds as protected as possible when they're in your ears, check that they're IPX4 certified, like our
Roam NC
,
GOAL
and
Ally Plus II
wireless earbud models. This means they will be totally sweat proof and water resistant, so you needn't panic if you get caught in the rain or are super sweaty during a workout.
4. Design and fit
This is one of the most important factors when it comes to your true wireless earbuds. There's nothing more frustrating than your buds constantly falling out, or even worse – causing you some serious discomfort. Silicone ear-tips that are either too big or small won't be able to form a sufficient seal within your ear canal, meaning you'll never achieve a good fit, losing bass response while also letting in a lot of annoying external noise. With our
GOAL
true wireless sport earbuds, the soft c-shape wings will keep them securely in place during vigorous movement, and our
Ally Plus II's
have a lightweight feel and 8 different options of ear tips, making sure you have the right fit for optimal performance.
5. Cost
It's important to note that as far as wireless earbuds go, cheap doesn't exactly equate to cheerful in this case. Decent and reliable wireless earbuds simply won't come in at a bargain basement price. This is because not only do they require a good-quality Bluetooth chip from the likes of Qualcomm, but they also need to have a good quality battery too. However, that's not to say that a great pair of true wireless buds have to cost the earth either. It's all about finding a pair that are brilliant value, and can give you everything you need without breaking the bank. Our Cleer Audio wireless earbuds range from just
$59.99
to
$129.99
– so there are options to fit everyone's ears, and suit everyone's pocket. So there you have it, our go-to guide for selecting the perfect pair of true wireless earbuds. We strongly recommend that you consider every point on this checklist before you buy a pair. Or alternatively, save yourself a lot of searching and head to our
online store
today to scoop one of our impressive and reliable models. Happy listening!