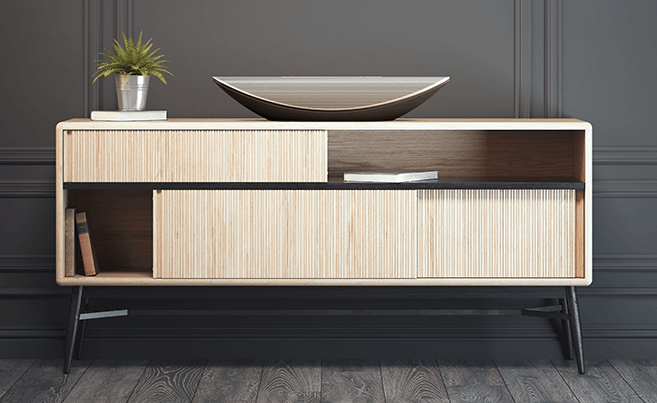 Step away from the everyday and embrace individuality with our new Bluetooth smart speaker: The Crescent. An entirely modern Bluetooth smart speaker that sounds just as good as it looks.
Smart speakers are everywhere these days and it feels like everyone has one in their home, the only problem, apart from the sound quality on some, is that they all look and feel the same. Each one is a version of the other and most are designed to disappear into the background rather than stand out from the crowd. Not the Crescent though, this Bluetooth smart speaker is a show stopper.
It's hard not to notice it's unusual, unique look. The Crescent has a bespoke look that immediately separates it from all the bland, monotonous alternatives out there on the market. A curved golden slice, this Bluetooth smart speaker from Cleer Audio is an industry statement from a company that looks to excite and engage your eyes as well as your ears. Most people look to find a place in a room in which to hide their Bluetooth smart speaker, but the Crescent has been specifically designed to be on show and promote experiential listening.
The Smart Speaker of the Future
The Crescent isn't just a stunning piece of aesthetic design though, the internal features have been carefully crafted too. It's been fitted with an impressive array of drive units that perform a series of psychoacoustic tricks in order to create a variety of sound stages for three distinct listening modes. These are:
Stereo Widening - This is the standard hi-fi setting and helps deliver a well-defined, clear sound with an impressive soundstage that forms a broad image going well beyond the listener's position
Room Fill - As the name would suggest, this setting helps to fill the room with sound. It maximizes that sweet spot, attempting to spread it around for multiple listeners to enjoy in an ultra-wide sweet post that engages everyone equally in all corners of the room.
3D - The idea with this setting is to surround the user in a three-dimensional bubble of sound putting the listener front and center of the action that feels like your right on stage with the musicians. When compared to other all-in-one systems, the Crescent can surround the listener in three-dimensional, high-definition audio regardless of wall locations or reflected acoustics.
Essentially, the Stereo Widening produces a classic soundscape; Room Filling is perfect for parties due to its dispersion of sound music, while 3D Immersive Mode uses beamforming technology to channel sound around to one single sweet spot.
This makes the Crescent the perfect Bluetooth smart speaker for enjoying live events. With restrictions on what you can go to at the minute, from sporting events and the theatre to music gigs and festivals, the Crescent gives you that live experience that we've all been missing this year.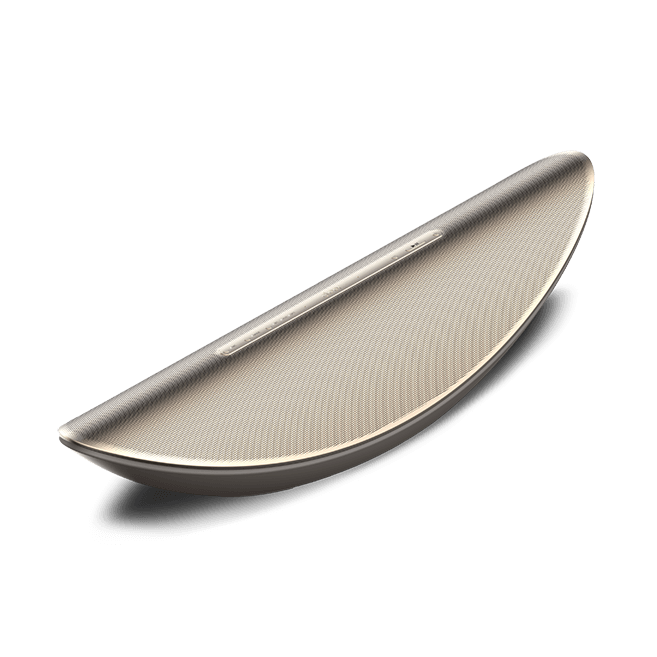 Futuristic Design, Futuristic Features
To help achieve this experience, the Crescent features a spread of 8 x 40mm full range drivers at the front of the unit, two rear-facing 84mm woofers and two back-firing bass ports as well. It also has a glass substructure and geometrically vaulted design to help reduce resonance as much as possible. Within the elegant shape, this Bluetooth smart speaker has a linear array of eight custom 40mm full-range drivers and a pair of 3.3-inch rear-firing subwoofers while the curvaceous speaker grille is wrapped around a reinforced speaker cabinet with glass fiber ribs for reduced vibrations and sonic resonance.
The Crescent also supports Hi-Res Audio formats (AAC, FLAC, WMA and Apple Lossless) and can stream from sources like Spotify Connect, Apple AirPlay 2 and Chromecast with ease. Additionally, it is a smart Bluetooth speaker with Google Assistant compatibility as it features voice-activated qualities through an optimized mic array and noise-rejection for far-field voice recognition. The Crescent can also be set to your preferred EQ through the Cleer+ app which has many bespoke audio modes to choose from, letting you have the freedom to listen to what you want, how you want to.
As a Bluetooth smart speaker, the Crescent is not just a pretty piece of stylistic design to complete a room, instead the audio qualities allow it to perfectly harmonize with its surroundings, meaning you have no limitations on where you can place it. What more could you ask for from a Bluetooth smart speaker!