In recent times, we've started needing a lot more from the technology that we're using in our homes. Not only do we now expect our speakers to play our favorite playlist, but we also want them to tell us the weather forecast, keep our calendars updated and even turn off the lights.
Powered by a virtual assistant, smart speakers can answer questions, set timers, reminders, and alarms, as well as control any other smart devices in your home. A smart speaker is a voice-activated device, which is a virtual assistant that helps you with everyday tasks.
For example, Amazon's smart speakers use an assistant called Alexa, and if you ask the question "what's the weather like on Sunday?", she will answer.
A smart speaker usually has many other functions as well, including playing music, taking notes on meetings, and controlling other smart home devices in the home. This allows you to turn on the lights or set the thermostat with a simple voice command.
Using virtual assistants with smart speakers
Most speaker brands have their own voice recognition technology; Google has Google Assistant, Amazon has Alexa, and Apple has Siri. Although each virtual assistant has a different name, all of them are "awakened" by the user saying their name (i.e., Hey Siri). Once it wakes up, the speaker will hear your question, transmit it to the system and answer it.
The virtual assistant also learns the more you speak, so it can better understand your accent and vocabulary over time and give you better answers. Then there are manufacturers like Cleer Audio, Bose, and Sonos that rely on virtual assistants for others.
For example, Cleer Stage smart speaker has an
Alexa enabled speaker
built-in to facilitate the use of smart technologies, while Cleer Crescent
smart audio speaker
makes use of Google Assistant.
Can you hack smart speakers?
Hackers can remotely access your device and listen to your conversations. There isn't any evidence this is a common problem, although there have been instances of other smart devices getting hacked.
In most of these cases, the hacker gains access to the devices through the owner's weak passwords or an app, rather than hacking the electronics of the device itself. Using a strong password and two-factor authentication is the best way to protect your devices from hackers. Are smart speakers listening?
Smart speakers are built to always be listening when you need them. The words you speak are sent to the device's cloud to be "translated" so the assistant knows how to help you. Sometimes data is collected and analyzed to "improve customer performance". You can turn off the ability to save audio clips for analysis in the Speakers app settings.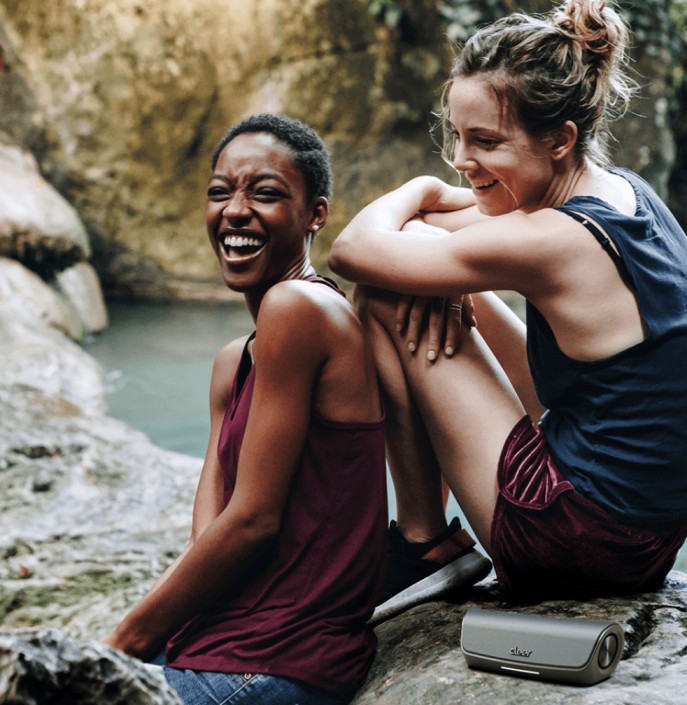 What are waterproof speakers and how do they work?
Waterproof Bluetooth speakers consist of three main components, which are drivers, crossover, and cabinet. Drivers convert electrical energy into mechanical energy that produces different sound tones. Crossovers split the audio signal and split the pitch into several different audio bands using controls. The cabinet is responsible for holding the internal components of the speaker. It also manages the sound waves and affects how the sound is produced.
In most cases, waterproof Bluetooth speakers cannot be submerged in water, as this could permanently damage the device. However, most Bluetooth waterproof speakers are given an IPX rating which indicates what a speaker can and can't be exposed to.
The IPX0 rating has no waterproof capabilities, while the IPX8 rating allows the speaker to be submerged in water deeper than 1 meter. Your choice of speaker will of course depend on your individual needs and whether you need the speaker to withstand the risk of splashes or rain; or whether it can withstand complete immersion in water.
Are there different types of water ratings?
Yes, there are different degrees of water protection available for smart speakers and other electronic devices.
Waterproof Bluetooth Speakers:
Waterproof means that the device is not affected by contact with water and can withstand contact with water without damage. As you can imagine, this is a high threshold to reach, as there is no current industry standard that determines whether a device is truly waterproof or not.
However, there is an Ingress Protection (IP) standard that assesses the waterproof resistance of a device. If a Bluetooth speaker comes with a waterproof feature, it means you can take your Bluetooth speaker to a pool party without worry, while if you want to take a waterproof Bluetooth speaker to a pool party, there are other things to consider.
Water-Resistant Bluetooth Speakers:
A water-resistant Bluetooth speaker provides a lower level of protection than a waterproof device. Classification of a product as waterproof usually indicates that the device is constructed to prevent water ingress, or that it is covered with a material that reduces the possibility of water damage to the speaker.
Take this as the manufacturer letting you know that they have tried to protect your product from water damage, but you should avoid contact with water if possible. The Cleer Stage speaker is a smart water-resistant Bluetooth speaker with Alexa, able to keep up with all of your adventures with an IPX7 waterproof rating.
Water Repellent Bluetooth Speakers:
Waterproof Bluetooth speakers are designed to repel water. The device is usually coated in thin-film nanotechnology. This film protects against contact with water and offers a slightly higher level of protection than a water-resistant speaker would provide, but, at the end of the day, neither product is completely waterproof.
The winning combination
Alex enabled speakers are great, but when you throw in a water-resistant rating you've got a real winner on your hands. This is because you've got the power of a smart speaker paired with the durability of a waterproof device.