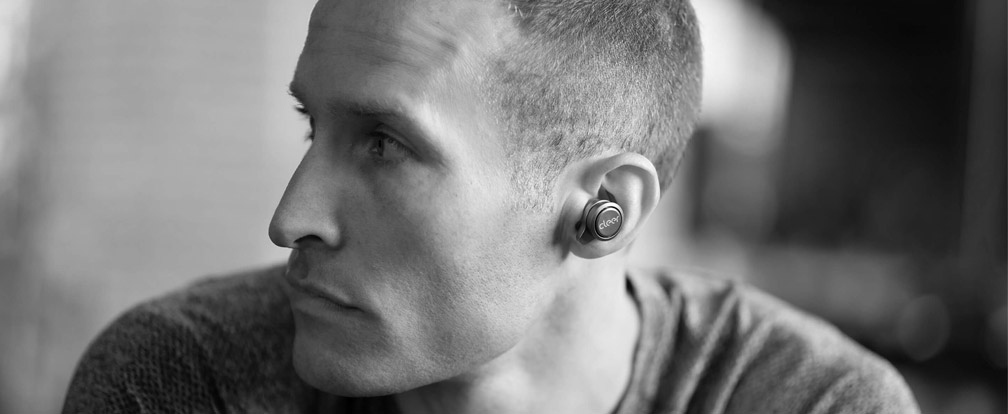 A must-have today is a pair of quality wireless earbuds you can use day in and day out regardless of weather, activity, or duration. After all, when the world around you is so busy that you need to tune everything out, popping in that pair of earbuds can be cathartic. The best part is when the earbuds aren't only comfortable to wear, but also a pleasure to use because of their sound quality. If this sounds good to you and you're looking for one pair of earbuds that can be used to work out, make a call, or just relax listening to music, this post was made just for you. Why? Because it covers the exact solution you need to go from home to work and the gym on a single charge: ALLY true wireless earbuds from Cleer Audio built with premium sound quality for those who lead active lifestyles.
ALLY: True Wireless Earbuds
As we begin our review on the ALLY earbuds, let's start with something you may be wondering: Who were they made for? Are they really only for those who lead active lifestyles? In short, everyone for the former and no for the latter. Though they're excellent for people who run, jump, and exercise, leading to the earbuds getting wet or sweaty, they're also perfect for those who prefer to lead life in the slower lane. As such, we've created a couple of points to illustrate who can benefit from these true wireless earbuds:
Commuters who prefer to listen to their music rather than the loud person who just doesn't understand what an inside voice is.
Casual listeners who want good quality audio and a single pair of earbuds they can use to satisfy all of their audio needs.
Forgetful people who always seem to forget to charge their devices.
Busy employees who enjoy the ease of answering or hanging up a call with a couple of taps.
Fitness enthusiasts who tend to get sweaty and need a water and sweat resistant audio distraction while they work out (or those who can't pass up running in the rain for an immediate cool-down effect).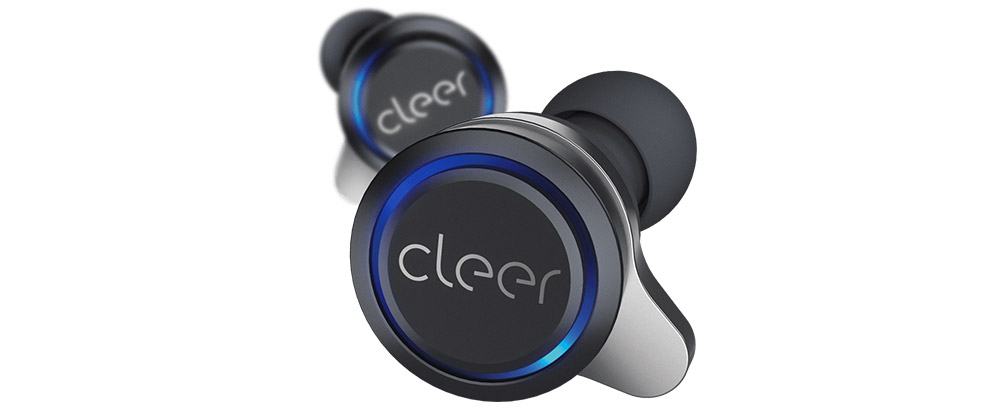 In other words, ALLY was made for everyone. With that knowledge, let's move on and cover the details, AKA the real reason you're here.
ALLY: The Details
With a tagline stating True Wireless Earbuds Designed for Active Lifestyles, you better believe that the ALLY earbuds deliver just that. Case in point, they utilize Bluetooth® 5.0, the latest Bluetooth® version that improves on range (quadruples the range), speed (doubles the speed), and bandwidth from its predecessor. As for the 'active lifestyles' part, we already touched on this before; the earbuds are IPX5 water-resistant certified and come with a sweat-proof design perfect for running mile after mile or putting work in at the weight rack. Tagline aside, one of the ALLY's most touted features is an industry leading battery life of up to 10 hours of audio playback with the earbuds alone. To clear things up a bit, the industry average for wireless earbuds is six to eight hours, giving ALLY a clear upper hand. Apart from an extended battery life that allows you to enjoy your music even longer than the competition, the ALLY also comes with a slim charging case that provides an additional 20 hours of playback. If that's not impressive enough, a quick 5-minutes charge in the case provides one hour of playback. I think we can all attest to needing a quick charge to get us through a phone call or gym session. One more thing we'll cover before we move onto the ALLY's sound is its soft touchpad that allows you to play, pause, answer or end calls, and even access your favorite voice assistant like Siri or Google Assistant with a simple tapping motion.

A note on phone calls, ALLY comes with a nice bonus in the form of Qualcomm's cVcTM (8th generation), leading to echo-free calls. One more bonus is a built-in sensor that pauses music when the earbud is removed and plays it back again once it's replaced.
ALLY: The Sound
And now we arrive at the ALLY's sound. Though the best way to classify ALLY's sound is to actually experience it for yourself, we'll do our best with a textual description that, unfortunately, can't hold a candle to the actual premium sound quality it delivers. For one, you'll have no complaints with ALLY, whose midrange frequencies are neither too forward or recessed, nor too lively or dull. In fact, they sound as natural and detailed as you can hope for in a pair of quality earbuds. Second, if good bass is something you care about, rest assured knowing that ALLY's bass is well-defined and packs quite a punch for such a small wireless earbud. If, on the other hand, you're not into a deep bass, apologies, but these earbuds really bring it.
ALLY: The Design
From the sound we arrive at the design, which is just as important for those who prize aesthetics above all else. Starting with the shape, the earbuds are circular and come with standard silicon ear-tips in small, medium, and large sizes, as well as specially and ergonomically designed wing-tips (also in small, medium and large) that provide a secure fit even with the most active of listening sessions. That being said, let's take a quick detour and look at a diagram of the earbuds being inserted into place (tip: Insert the earbud into the ear and slightly twist backward to secure):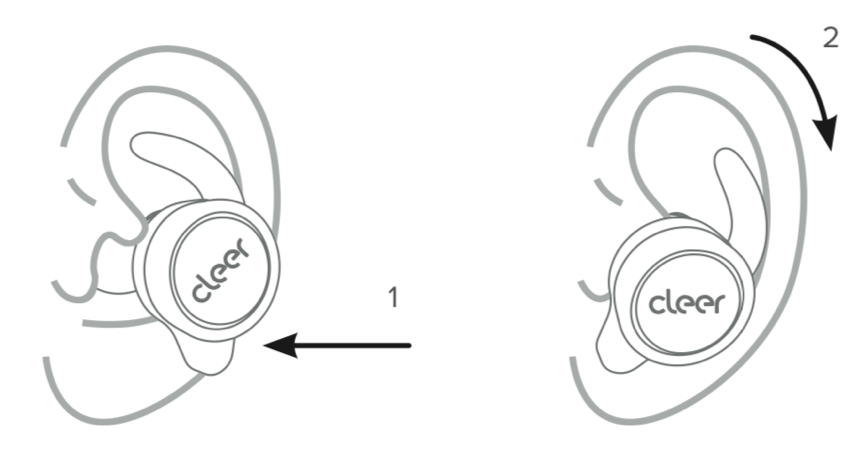 As you can see, the earbuds are small and unobtrusive, so you won't look like you just walked off the set of a Star Trek episode with an earpiece communicator still attached to your ear. Moving to the color, ALLY comes in a sleek gunmetal or metallic red that imparts an extra touch of attitude. As far as comfort is concerned, the design allows you to go from a full 10-hours to empty without any discomfort—something anyone can appreciate.
ALLY: The Specifications
Finally, let's cover some specifications for a well-rounded approach that ensures you have all the information you need about the ALLY before you make a purchase:
Bluetooth version: V5.0
Bluetooth transmission power: <9.5dBm
Bluetooth transmission frequency: 2.402-2.480GHz
Bluetooth range: approximately 30 feet (10 meters)
Bluetooth profile support: A2DP v1.3, AVRCP v1.6, HFP v1.7, HSP v1.2
Audio CODEC support: SBC, AAC, aptX
Voice service support: Alexa Voice Service
Battery size: Lithium-ion 3.7V, 85mA (per earbud); Lithium-ion polymer 3.7V 545mA (case)
Battery life: up to 10 hours with earbuds; up to additional 20 hours with charging case (here's that industry-leading battery life we talked about earlier)
Battery charging: Quick Charge: a 5-minute charge delivers up to 1-hour playback; less than 2 hours for a full charge (when charging unit via micro-USB cable and charging case)
Driver unit: 5.8mm, Dynamic Driver

Frequency response: 20-20,000Hz
Water resistance rating: IPX5 (for earbuds only)
Dimensions (case): approximately 72.5x28.7x39mm
Weight: 6g (per earpiece), 62.5g (both earpieces and case)
Final Thoughts
Whether you're on a plane or a treadmill, the ALLY True Wireless earbuds will be there for you so you can take your soundtrack anywhere and everywhere you go. The sound is premium; the tech gives them an ultra-long and industry leading 10-hour battery life with the option of adding an extra 20 hours of playback with the charging case; their design is not only sleek and attractive, but also functional and tough enough that they can resist both water and sweat; and the comfortable silicone ear- and wing-tips come in varying size options for an optimal fit. Lucky for you now that the holidays are right around the corner, you can buy these true wireless earbuds online for that special person in your life on the Cleer Audio website for $149.99.
Enjoy!