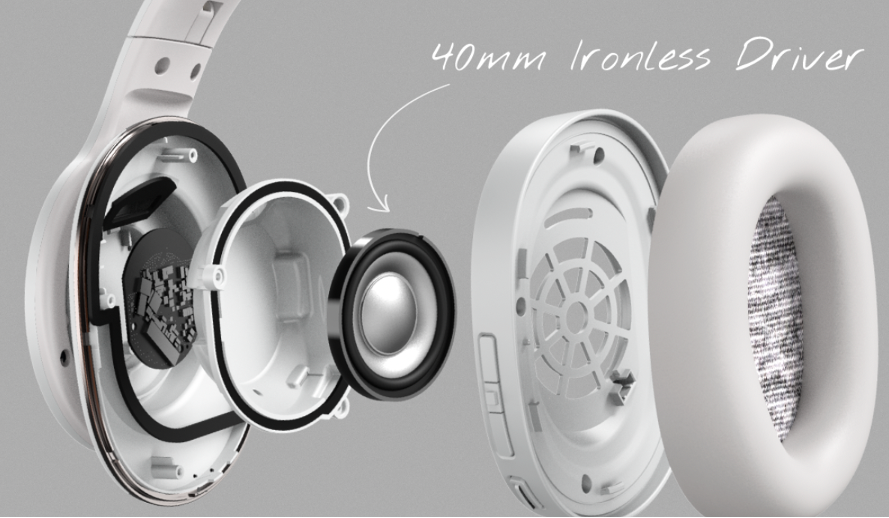 When it comes to investing in high-quality sound, it's easy to become overwhelmed by all the options out there – there are a ton! Not only are their different brands and styles, but there's also a sea of tech specifications that you need to navigate your way through. One common specification often overlooked, especially when it comes to headphones and smart speakers are the 40mm
driver
unit in headphones and smart speakers.
Naturally, you may be asking yourself what exactly a driver is, why the size matters and if it's found in only more premium devices. Well, the driver delivers the sound that you hear, and the size of the driver will determine the sound quality. And no, a driver isn't a rarity, it's found in all sound-producing devices – including your smartphone!
So, on that note, let's take a look at what audio drivers are, and how the 40mm driver unit makes a difference when it comes to headphones and smart speakers.
Understanding audio drivers
When it comes to any sound-producing device, the driver is one of the most important components. It is responsible for converting electrical signals into sound and producing the music that the device projects. Regardless of whether you are using headphones, earbuds, earphones or even speakers, the driver is an important component found in all of them.
The disc-shaped sound drivers are made up of three simple components:
A magnet that produces a magnetic field.
Voice coils move the diaphragm and create sound when an electrical current passes through them.
Diaphragm that vibrates and creates sound waves.
The size of the driver varies depending on the brand and device in question as well as the sound output required. The larger the driver is, the better the bass quality. However, it is important to note that a bigger driver doesn't always equate to better sound performance. Several different factors need to be considered when it comes to sound quality, which we'll discuss more of below.
Does the driver size really matter?
To give you an idea of how driver size is often utilized, earphone's sound drivers are between 6mm and 15mm in diameter and a headphone's driver is anything between 20mm and 50mm. This means that the 40mm driver unit headphones in the Cleer Audio range are just the right size. The size of the driver will determine how loud the sound of the headphones will be, and the same can be said for the 40mm driver speakers. Bigger drivers are capable of producing incredible bass, however, not many manufacturers are able to get the treble to balance out along with it. This is why some sound brands brag about bigger drivers, but unfortunately lack the capacity to produce the high-quality sound often associated with it. This is where Cleer Audio is different. We have developed a 40mm ironless driver that delivers bold bass and high-quality sound, offering a fully immersive sound experience.
Cleer Audio 40mm Ironless Driver Technology
We are passionate about delivering premium quality sound using the latest technologies. Every component in our wide range of devices has been carefully selected to meet this purpose, and in the cases where it doesn't exist, we will create it. This was the case with our driver technology, and so our team set out to develop and patent a driver like no other. And so, our
Ironless Driver
was born.
We've gone far beyond the average, traditional soft iron drivers featuring a single magnet to develop something far more superior. As a result, whenever you listen to your favorite music with one of our wireless earbuds, headphones, or smart speakers, you're guaranteed a dynamic, emotional listening experience.
Our 40mm drivers deliver clear, distortion-free sound. How you may ask? Well, we have strategically layered and placed 20 rare-earth magnets within the device. This provides impressive voice control and effective translation of the electrical impulses being sent through the driver.
Our
Enduro ANC
noise cancelling headphones
feature this impressive driver and produce bold high-resolution sound. In addition to this, these wireless Bluetooth headphones also feature noise-cancelling technology and ambient awareness that gives you the freedom to choose when you want to hear the world, and when you would like to be fully immersed in this next-level sound quality.
If you are looking to share the joy of sound with others, a smart speaker may be more up your alley. In this case, we recommend looking at our
Crescent
smart audio speaker
, which features eight strategically placed 40mm audio drivers, along with two 84mm woofers. This means that whatever you choose to play, you can rest assured knowing that the sound quality will be like no other. This speaker even features three intelligent sound modes designed to meet different listening specifications.
These two devices are merely two examples of how our range has been designed to meet your listening needs. They're fully customizable and built to outperform and outlast their competitors.
Have you discovered the power of a 40mm driver?
When it comes to headphones and smart speakers, a 40mm driver is the perfect fit to deliver next-level sound. So, the next time you are looking to upgrade your sound, look for a powerful sound driver to meet those expectations – and exceed them. Look for a 40mm audio driver.