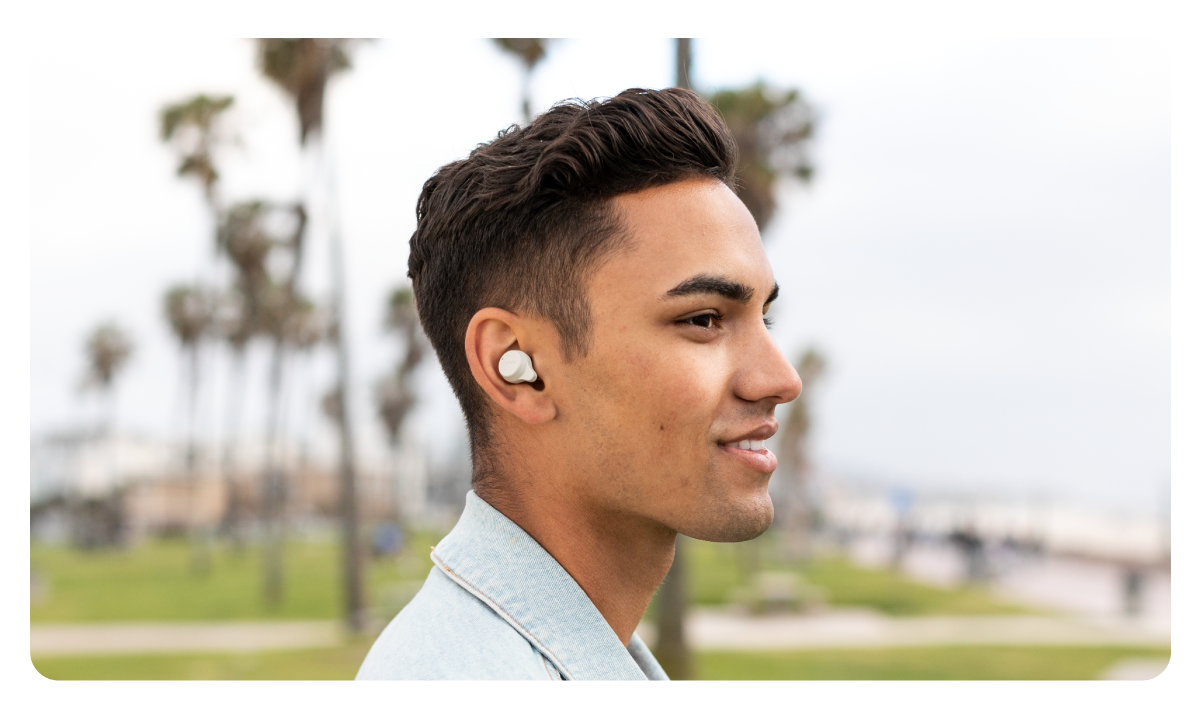 Here at Cleer Audio, we know that life is better when you have choices. We don't believe in a 'one size fits all' approach to life, because we understand that everyone is unique, with different ideas and preferences for just about everything! This is definitely true when it comes to the technology and devices we use day to day too... Our range of headphones and earbuds offer something for everyone, no matter what's on your checklist when it comes to your perfect portable audio device. There does, however, seem to be two super common sticking points that most people have on their list of must-haves when it comes to a device: noise cancellation and a decent battery life. Luckily, here at Cleer - we've got both of these bases covered (and then some), with more than one of our nifty earbud models.
Roam NC Noise-Canceling True Wireless Earbuds
With these affordable and clever little earbuds, you can take advantage of customizable ANC for any situation. Our comfortable in-ear earbuds use no cables to give you a wireless audio experience that's free from any detangling disasters. Audio-wise, they also pack a great punch with their custom-tuned 5.8mm dynamic drivers. You'll also get active noise cancellation technology, which filters out up to 25 dB of ambient noise, allowing you to drown at the crowd and zone in on your favorite music or podcasts. And there's more! The ANC technology available from our
Roam NC earbuds
is also customizable, giving you the option of different filters. This allows you to adjust the level of cancellation in order to match the environment you're in. Make a mode for the office, where it's not too noisy, as well as one for those crowded and super loud subway commutes. When paired with a smartphone, you can also use the buds' built-in cVc microphones, allowing you to make hands-free calls and interact with any of your mobile digital assistants - all of which are controlled via clever built-in touch controls to make life as easy as possible.
Up to 20 Hours with Charging Case
On their own, the Roam NC can offer up to 5 hours of wireless audio on a full charge, with the battery inside the included charging case adding an extra 15 hours, for up to 20 non-stop hours of full power. The earbuds recharge automatically as soon as they are placed into their handy carrier case.
Ambient Aware Mode
Via the Cleer+ app, you can control the ambient aware feature, which lets the sounds of the outside world back in. It's an ideal feature when you need to quickly hear an announcement or have a quick chat and you don't want to remove your earbuds to listen.
Cleer+ App
Using your mobile device and the Cleer+ app for iOS and Android, you can adjust noise cancellation, ambient aware levels, create custom EQ levels, customize other controls, and more.
Touch Controls
Using the touch pad that's built into the outside of the earbuds, you can easily control music playback, volume, calls, and your device's digital assistant.
Great Value
With a price point of just $59, you can enjoy a premium earbud experience, without having to worry about breaking the bank.
Additional Features
IPX4 water and sweat resistance
Two cVc microphones for clearer conversations
5-minute quick charge gives you up to 1 hour of playback
Charge case via USB Type-C interface
Or how about the Ally Plus II?
We weren't kidding when we said about giving you more choices. If you're in the market to spend a little more money, and get a few more features to boot out of your audio devices, then how about considering our newest
Ally Plus II
model? As a sequel to the super popular Ally Plus, we've tweaked things a little to make them more ergonomic and allow for an even better fit. These true wireless buds now come with specialized silicone ear-tips to help reduce pressure in the ear canal over extended use, as well as some pretty brilliant noise-cancellation and audio credentials.