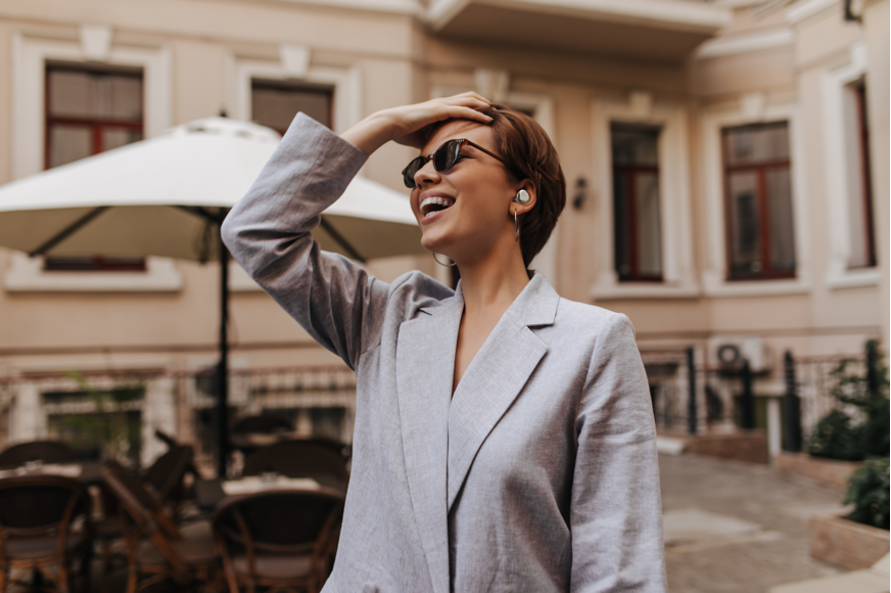 Noise-cancelling headphones and earphones have been saving us from uncomfortable situations for some time now, but why do so many of them feature an ambient mode and what does it mean?
Ambient mode experience for earbuds and headphones
Let's start by looking at what ambient mode actually is. Ambient mode lets in some of the surrounding sounds so that you can remain mindful of your surroundings. This is particularly helpful when you are out jogging, and cars are passing you by. If you can't hear them, then you can't get out of the way. This may seem counterintuitive when you buy a pair of noise-cancelling headphones or earbuds, but it has all been created to put your safety and comfort first. Ambient mode technology for earbuds is a setting that you activate when you want to stay aware of what is around you while still enjoying your podcast or playlist. It is not forced onto you, but rather a recommended setting for when you are in a space that requires your attention. The same can be said for ambient mode awareness for headphones. If you are at the office and want to hear when people are calling you, simply turn on ambient mode and you'll be able to hear the world around you. Of course, when you do not want to be disturbed, you can simply switch off ambient mode awareness for headphones and zone out into your favorite sounds. The ambient mode can therefore be alternated with noise-cancelling mode, offering a clear contrast between the two settings.
Using ambient mode awareness
Regardless of whether you are using ambient mode technology for earbuds or headphones, the concept remains the same. Additionally, different brands may approach this setting differently but at the end of the day, the purpose is to ensure situational awareness even when you are rocking out to your favorite sounds.
Choosing between headphones and earbuds
Earbuds are more discrete and easier to wear unobstructed, while headphones are often more durable and provide a more obvious "do not disturb" sign. Visible differences aside, the choice between the two is almost always based on personal preference and not so much the functionality.
Let's take a look at Cleer Audio's offering as a real-time example. The brand offers both earbuds and headphones aimed at providing noise-cancelling technology with the freedom to activate ambient awareness. Their latest earbud offering
Ally Plus II
easily cancels out the most intense sounds using industry-leading noise cancellation at 34dB, not bad for a pair of tiny buds. When compared to the
Enduro ANC
that cancels environmental sounds by 25dB, it's clear that dynamite comes in small packages. Both offer superior battery life, feature an IPX4 water rating and are easily customizable with the Cleer+ app.
In comparison, Skullcandy also offers noise-cancelling technology in both categories, however, their Method Active Noise Canceling earbuds are not completely wireless and therefore not technically earbuds. The Crusher ANC headphones offer a truly impressive sound experience, but where both of these devices lack is that they do not offer ambient mode although they do offer noise-cancelling technology.
If you're in the market for noise-cancelling headphones or earbuds, we recommend looking for a set that features ambient mode. This will provide the ultimate listening experience while giving you the freedom to choose if you want to let the rest of the world in or not.