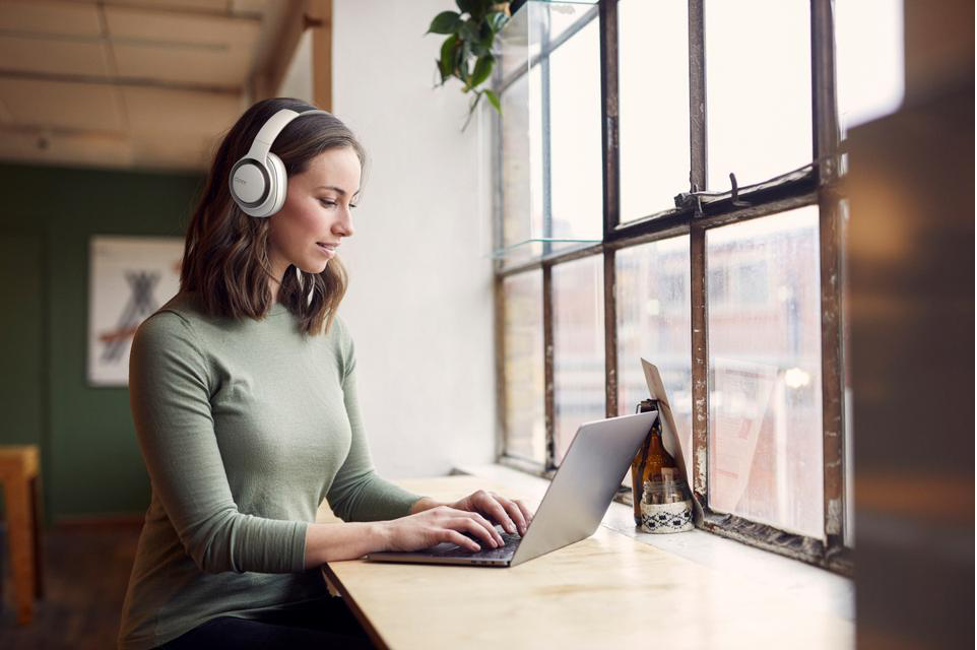 Bluetooth 5.1 is a short-range wireless technology found in many modern devices, from phones, tablets, headphones and laptop computers to TVs, fridges, and cars. It was designed as an alternative to wired connections and lets your devices talk to each other and share various types of data.
What are the benefits of Bluetooth 5.1?
Remember when Apple got rid of the headphone jack from the iPhone? Well, Bluetooth technology had gotten to a point where it could send data like songs and videos between devices without wires and at high speed. Every new iteration of Bluetooth tends to be radically more powerful than the predecessor, sending information faster and over a greater range (up to 250m). Today, Bluetooth 5.1 can transfer at speeds of up to 2Mbs, which is double that of the version which came before, Bluetooth 4.2. One of the main benefits of Bluetooth 5.1 isn't just the speed. It consumes far less energy than Bluetooth 4.2, which is great news for the battery life of your devices. It's also much more stable, which means fewer interruptions, dropouts and general connectivity issues. With hi-res audio becoming increasingly common, Bluetooth 5.1 is here to ensure an even more impressive listening experience. Headphones such as the
Enduro ANC
and
Enduro 100
both use Bluetooth 5.1 for this very reason, with other big manufacturers also adopting the technology in their flagship aptX low latency earbuds and aptX low latency headphones.
What is latency, and what are low latency headphones?
Transferring information without wires has traditionally been less efficient than using cables, although that is now changing. Latency describes the amount of time it takes for data to be sent from your phone (for example) to your wireless earbuds where the sound is then played. It's essentially a measure of lag. Have you ever watched TV with headphones and the audio and video seem to be out of sync? That's because the latency is high. It's a common problem for gamers, too. When you move the joystick or press a button, there is a fraction of a second before that action or sound is replicated on screen. It can be incredibly frustrating and ruin your viewing, playing, or listening experience. So, in a nutshell, low latency headphones make sure everything stays in sync whilst still providing high-quality sound, all with less drain on your headphone's battery.
What is Qualcomm® aptX™?
Qualcomm® aptX™is an audio codec. It's what compresses and decompresses the data for wireless transmission over Bluetooth 5.1. The reason atpX has become popular is because it supports the transmission of high res audio specifically for Bluetooth headsets. If you see headphones advertised as aptX low latency headphones or aptX low latency earbuds, this means they support Qualcomm® aptX which pretty much guarantees a latency-free listening experience.
How good is aptX low latency?
In short, very. AptX low latency headphones and aptX low latency earbuds were put to the test at Salford University, where "No statistically significant difference between Qualcomm® aptX™ Adaptive at 420kbit/s and Linear Audio at 24bit / 96kHz" was detected. This means that aptX is capable of delivering hi-res audio with maximum reliability.
Does Bluetooth 5.0 support aptX?
Absolutely. The two technologies were designed to work together perfectly. The only thing you need to check is whether your device supports Bluetooth 5.0 and aptX. Currently, most newish smartphones should be on board with Bluetooth 5, but it may be a different story for aptX. Apple iPhones famously don't support it, but Samsung's Galaxy S20, Galaxy S21, Note 10 and Note 20 all do.
Does Bluetooth 5.1 have less latency?
Thanks to codecs like aptX, you can rest assured that Bluetooth 5.1 has less latency than previous iterations, particularly when it comes to streaming audio.