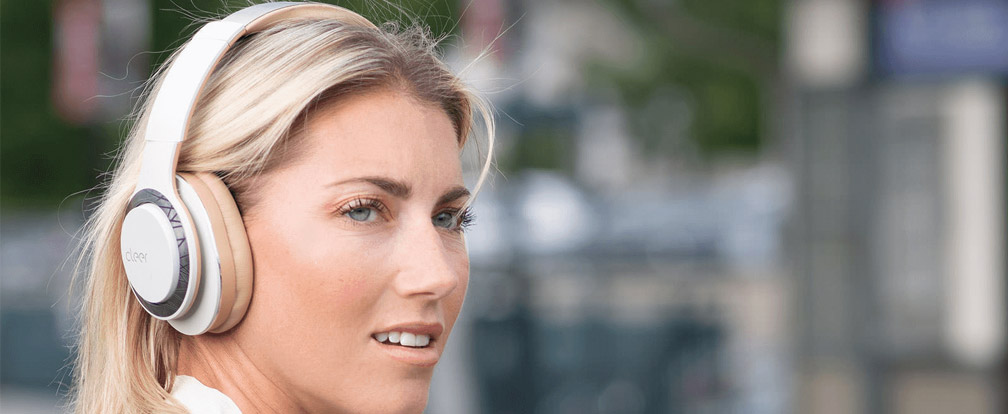 Introducing the Enduro 100
Cleer Audio's new Bluetooth over ear headphones have been engineered to keep up with your busy lifestyle, whatever it might be. A nagging problem that affects and annoys all wireless headphone users is battery life. The constant need to charge headphones on a daily basis, coupled with the threat of burning through this power after only a short amount of usage, can make it difficult for people to truly get the most out of their headphones. However, the Enduro 100 has been specifically built as a
Bluetooth headphone with a long battery life
; it's the perfect solution to the problem of your listening experience being cut short.
Playback for Days
Enduro 100 from Cleer Audio offers an industry-first 100-hours of battery life from just a single charge. All this battery life adds up to over four days of continuous playback, longer than any other pair of wireless headphones out there on the market today. This level of playback capability means you'll be able to listen to anything in one go and enhance your audio experience, whether it be an artist's complete back catalog or even an entire audiobook, without worrying about having to pause and charge so you can get lost in whatever you might be enjoying. Another impressive feature is that once the 100 hours do eventually run low, the Enduro 100 headphone can get 13 hours of playback time from only ten minutes of charging. In fact, just a 3-hour charge will give you the full 100 hours of music enjoyment, meaning you won't have to wait long to get back into your music. Other factors that help the Enduro 100 reach its four-day battery life are an 800mAh battery and the addition of Bluetooth 5.0. Due to the reduced power usage stemming from this and the latest chipset from Qualcomm, an industry-leading 100-hours of continuous playback becomes a possibility in a cutting-edge product in the wireless headphone market.
Built to Last
With a lightweight design built for extended wear and usage, wearing these headphones will never be uncomfortable or awkward, no matter if you're on hour one or hour 100. With a weight of just 280g, these lightweight, Bluetooth over ear headphones offer plush ear pads as well as a flexible headband so carrying them with you on your travels and attaining long-listening enjoyment is now as easy possible. The Enduro 100 wireless headphone comes with 40mm Ironless Drivers™, the same ones found in the
Flow
, producing a crisp, articulate sound with low levels of distortion. They also feature AAC and aptX HD low-latency support to give them clean and pure audio capabilities with high-resolution playback. Android pairing has been made simpler due to the Google Fast Pair 2.0, which the Enduro 100s comes with as standard. This means that when powering up the headphone, the pairing request automatically appears instantly on-screen. Cleer Audio has seemingly made it a mission to make these headphones as simple and convenient to use as possible, emphasized by the simple set of buttons for controlling power, volume, music, and phone calls that are conveniently located along the edge of the left earcup. All operations are handled by just a push of a button, while the automatic playback pause kicks in whenever the headphones are removed. In effect, this means you'll never again miss a moment of your music, podcasts, or audiobooks because you have to take your headphones off for a second.
Final Thoughts
Wireless headphones that need constant recharging are annoying and inconvenient. They intrude on the freedom that wireless listening wants to offer. However, the new Enduro 100 wireless headphone and their quite frankly ridiculous battery life of 100-hoursmeans that, from now on, you'll be able to focus on listening to what's important to you, as opposed to putting it off because you need to charge your headphones once again.