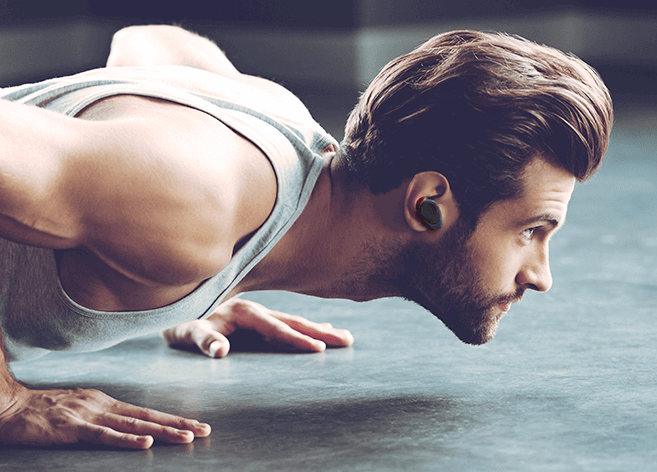 The world is going wireless. From headphones to internet connections, wires in the modern world are quickly becoming a thing of the past. It's not just over-ear headphones that have gone that way as the rise of true wireless earbuds is quickly becoming the first choice for many out there looking for an audio device. In fact, what separates true wireless earbuds from their over ear counterparts is that they are much more relevant towards everyday usage, especially when it comes to true wireless sport earbuds. True wireless earbuds are not only used by people looking to make commuting or traveling a less arduous task or boost productivity at work, now they are built for people who like to live an active lifestyle or exercise regularly. Over ear headphones can be too heavy to wear during exercise or uncomfortable during certain movements that make leading an active lifestyle more difficult rather than easier. This is why the best true wireless sport earbuds are now the device of choice for people who like to listen to music or podcasts to get into the zone. With many phones and devices having now removed the headphone jack for good, true wireless earbuds offer a simple solution that lets you listen to what you want, when doing whatever you want. This freedom is at the core of why people enjoy an active lifestyle, and the prospect of being tethered to a device with wires that can snag on things can completely take you out of the moment you are enjoying. True wireless earbuds offer an unburdened audio experience, no matter where your active lifestyle takes you. Whether you're hiking in the hills, cycling through the woods, or working out at the gym, they all can be improved or simplified with the right pair of true wireless sport earbuds. It's important to remember that if you are looking for a pair to match your lifestyle, that you go for ones that have been specifically designed and engineered to operate effectively for exercise, as opposed to just everyday earbuds that will unlikely be able to keep up with you or fall out mid-workout. Therefore, the
Goal
needs to be considered the earbuds of choice for those of you who have had enough of being cooped up in recent months, and are looking to get back to that active lifestyle you love.
The Goal
Our newest pair of wireless sport earbuds offer you the most listening freedom possible. Enjoy your music, podcasts, audio books, and more no matter what sporting activity you are performing or wherever your active lifestyle takes you. Part of this comes from the attention to detail regarding comfort and fit as the Goal features a lightweight, natural fit that has been ergonomically designed. This creates a secure fit that never feels uncomfortable meaning you can walk, run, cycle, or anything else without having to stop due to listening discomfort. So, whether you have a pump-up playlist for tough workouts or are escaping into an audio book when out walking, the floating ergonomic design and carefully engineered Freebit™ skirts mean all day listening is more than a possibility. Sweat and water-resistance is also important for true wireless earbuds when you're exercising, which is why the Goal comes with IPX-5 resistance as standard, allowing for repeat usage without any fear of damaging the buds over time. As well as this, they come with 6 hours of playback on just one charge, meaning that the Goal can keep on going for as long as you can. As emphasis of Cleer Audio's goal of encouraging more people to get active, and enjoy a healthy lifestyle, we have formed a partnership with the
USL
. This partnership, alongside the upcoming release of the Goal true wireless earbuds, means that the way people interact with sports has taken the next step forward towards more interactive, engaging experiences for players and fans alike. With the signing of this multi-year agreement, Cleer Audio is now the USL's first Official Personal Audio Partner as sports and audio technology begin to fuse more cohesively, offering everyone a more interactive viewing and listening experience. Cleer Audio is proud to be a partner of the USL, and with the upcoming release of these new true wireless earbuds it illustrates our intent to help everyone lead the most active lifestyle possible, is our main Goal.